30 lifeguards to hit north coast beaches this summer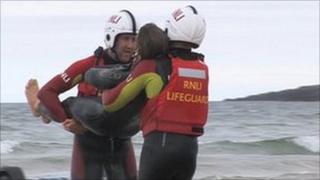 Next time you visit the beaches on the north coast of Northern Ireland you might be forgiven for thinking David Hasselhoff and the Baywatch team have moved in.
However, the red and yellow colours on display belong not to the sunkissed lifeguards of California but to the Royal National Lifeboat Institution (RNLI).
A team of 30 trained lifeguards will be patrolling seven beaches in the area - Whiterocks, Portrush East Strand, Portrush West Bay, Benone, Castlerock, Downhill, Portstewart Strand - until the start of September.
The scheme is the first time the charity's lifeguards have provided the service in Northern Ireland.
And it means beach lovers will be safe both in and out of the water under the watchful eye of the RNLI lifeguards, working alongside the already established lifeboat service.
It's being funded by the local authorities that manage the beaches as well as the National Trust, who look after Portstewart Strand.
Mark Strong from Coleraine Borough Council said: "For this past five years Coleraine Borough Council has had an in-house lifeguard service and the opportunity arose to work with the RNLI in a partnership with the other councils across the north coast.
"We have five beaches in the patrolled areas and this year four of them have attained Blue Flag status.
"Especially in the current economic climate there's a lot of people staying at home and holidaying on the north coast and we would just encourage people to come down and have a fun filled day with lots to do, beautiful beaches and above all feel that they are safe."
One of the lifeguard supervisors is Armagh man, Tim Doran.
He's 24 years of age, but has been lifeguarding for three years.
Despite graduating with a French and Political Science degree, he has decided to make lifeguarding his full-time career.
Australia
When I asked if his parents are happy with his decision, Tim said he "comes home every day with a smile on his face" and "doing a job that makes you happy means you never have to work a day in your life".
He said the job was very rewarding.
"We try to talk to the public as much as we can just to spread the messages like swimming between the red and yellow flags," he said.
"Most people once you explain and advise them as to why we do it, are very, very positive and do respond very well," he added.
Declan Mullan is 21 and from Portstewart.
He is looking forward to patrolling the beaches as a lifeguard but has his pet hates.
"The thing that lifeguards don't really like to see are inflatables in the water, people swimming close to the rocks, just general things like that," he said.
"We try to tell people and it's more taking preventative action rather than seeing them get into trouble first."
One young man has travelled all the way from Australia just to work the beaches of the north coast.
Alex Tasker is in the area this summer after applying to the RNLI to be a lifeguard.
He was sent to a place that needed him the most - Northern Ireland!
He says the weather may be different from home but he's loving the experience and says there's no chance of bumping into any sharks in the cold waters off our shores.
Alex says the responsibility of being a lifeguard is great but his training always kicks in during an emergency.
"Adrenaline takes over for the most part and you really become extremely focused on the casualty and doing the best you can and then you just go straight into robotic mode with regards to first aid and protocol, which we practice quite a bit," he added.
While I was filming on the beach, the lifeguards demonstrated their finely tuned skills by performing a rescue - bringing an "unconscious" swimmer in from the surf.
'Fantastic opportunity'
There's no doubt, for people so young they are on top of their game!
Nick Doran is another of the lifeguards.
He's 22 and used to be a competitive swimmer.
He's been a lifeguard for five years and this is his second year on the beach.
"I worked on Benone beach for the council (Limavady) last year and then I heard the RNLI were coming in, so it was a fantastic opportunity for me as it's a great way to spend the summer and I absolutely love doing it," he said.
As for female attention, he was very coy.
He said: "Maybe (we get) a bit but no, at the end of the day we're here to do a job and so we keep our eyes on the water and keep that for the weekend!"
Yes, I believe you!
Keeping a watchful eye on them all was Mike Grocott from the RNLI in Poole, England.
He says the team on the north coast has already proved its worth and that on a "fairly quiet rainy day" they had carried out 73 preventative actions.
"Had these lifeguards not been there, there's a potential that a number of those preventative actions could have turned into a situation where the person may have got themselves into trouble," he said.
"When we do the training we have a saying that a good lifeguard never gets wet because they've done all the ground work before they get into the water to pull someone out."
So the next time you're on the beach, look out for the lifeguards, because they'll be looking out for you!