Sammy Wilson holds emergency meeting to discuss debt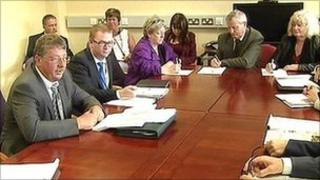 The finance minister met with local business leaders for an hour on Monday to discuss the impact of the growing world debt on the local economy.
Sammy Wilson held the emergency meeting at Stormont to assess the potential effect of the American and Eurozone financial crises.
Representatives from CBI, the Institute of Directors, the Federation of Small Businesses and trade unions attended.
Mr Wilson said all good ideas would be reflected in the forthcoming budget.
"It was a fairly positive meeting, people recognised that there were limitations of course to what we could do.
"But that does not mean we should throw up our hands and surrender and simply say 'there's nothing we can do about this', bury our heads in the sand and hope it goes away."
"First of all, we do recognise there are limitations that any regional government is going to have given the global pressures that there are, whether it's the Euro or the American economy," he said.
"But nevertheless, I think it was important and the meeting turned out, in my view, to be quite useful to look at, first of all, how do the people who are working the Northern Ireland economy from various sides assess the impact.
"And secondly, if they have any ideas on anything that they believe which we as an executive should be trying."
And Mr Wilson argued that any good ideas will be helpful in Northern Ireland's economic recovery.
"People may say they are fairly marginal but if marginal saves 600 jobs, is that not important? It is important to the 600 people who keep their jobs," he said.
"The one thing we are determined to do is to safeguard as many jobs as possible in the public and private sectors and look for ways of creating jobs in the public and private sectors to make sure that people can be sure they have enough income to spend."
Mr Wilson said the latest meeting was part of an "ongoing conversation" with business leaders that had begun in 2007 at the start of the financial downturn.
BBC NI Economic Editor Jim Fitzpatrick said the power of the finance minister to make a difference was "severely limited, with taxation and monetary policy all matters exclusively for Westminster".
"The meeting seemed to focus on problems in our local banking sector and the need for special measures to help finance business," he said.
Credit rating
On Saturday one of the world's leading credit rating agencies, Standard & Poor's, downgraded the United States' AAA rating for the first time ever.
S&P cut the long-term US rating to AA+ with a negative outlook, citing concerns about budget deficits.
The S&P announcement comes after a week of turmoil on global stock markets, partly triggered by fears over the US economy's recovery and the Eurozone crisis.
BBC correspondents said the downgrade could erode investors' confidence in the world's largest economy.
The downgrade could raise the cost of US government borrowing which in turn could trickle down to higher interest rates for local governments and individuals.
Northern Ireland Independent Retail Trade Association Chief Executive Glyn Roberts described the meeting as "constructive".
"It is crucial in the weeks and months to come that businesses, trade unions, and voluntary sectors present a united front in dealing with our economic challenges ahead," he said.