Five hurt in car crash at take-away premises in Belfast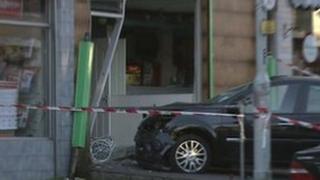 A baby and four other people have been taken to hospital after a car crashed through the front of a Chinese take-away outlet in north Belfast.
The pram holding the baby was struck by a black car which then hit the Capital City premises on the Cliftonville Road at 19:00 BST on Friday.
A woman was knocked down and trapped under the car as it hit the building.
The baby and one adult remain in hospital where their condition is described as stable.
Two adults and a child who were injured have been discharged.
It is understood the car veered across the road before striking the pram.
The pram landed a number of feet away on the pavement with the child, who is only a few weeks old, still inside.
A man cradled the baby until ambulances arrived.