Woman's ear partially bitten off in alleged assault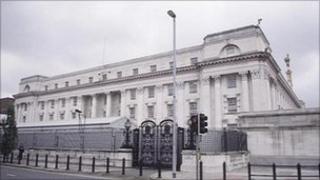 A 19-year-old woman's ear was partially bitten off after a man offered to fight her outside a pub, the High Court has heard.
Surgeons were unable to reattach the piece following the attack in Newtownabbey, County Antrim.
Craig Wright, 20, of Green Walk in Rathcoole faces a charge of causing grievous bodily harm with intent to the victim.
He is alleged to have carried out the assault in May.
Crown counsel claimed Mr Wright first approached the woman on the dance floor of the Cloughfern Arms.
The barrister told a bail hearing that the accused was crying and talked about having just buried a friend.
It was claimed that Mr Wright became aggressive despite the woman trying to console him.
She tried to get away from him and went outside to have a cigarette, only to be followed by the accused, the court heard.
Gruesome
Crown counsel said the woman's account was that Mr Wright offered to fight her, swinging a punch but missing.
During a subsequent scuffle she was forced to the ground and had part of her ear bitten off, the court heard.
Although the section of her ear was recovered, surgeons at the Ulster Hospital could not reattach it.
Mr Wright later went to a police station with his parents and was arrested.
He said he had been drinking and taking drugs, and claimed to have no recollection of what happened.
The court was told that after being charged he said: "If I did commit this gruesome crime I am deeply and meaningfully sorry."
A defence barrister confirmed that his client was a close friend of 21-year-old Aaron Hogg, who committed suicide days before the incident while on remand in prison.
The barrister added: "It is accepted that the nature of the case is a very unpleasant one."
Mr Wright's application for bail was adjourned until later this week.
The judge, Mr Justice McCloskey, directed that all available and relevant reports in connection with the case should be made available.