A reporter's account of New York in the aftermath of the attacks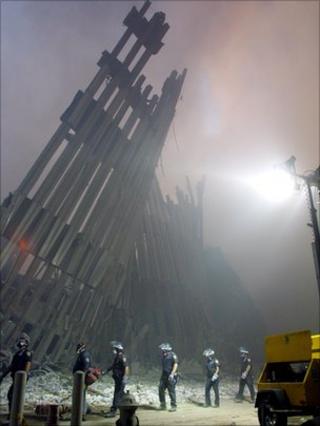 Broadcast news organisations are like well oiled machines.
They pride themselves on getting reporters, producers and camera crews on the ground as quickly as possible.
9/11 wasn't like that and don't believe anyone who tells you otherwise.
Even experienced journalists felt a sort of paralysis watching images which were beyond a nightmare.
All air travel into the US was suspended and it was to take nearly a week before any flights were allowed in.
One BBC team left Stansted for Toronto, planning to cross the border from Canada.
Together with my colleague Gareth Gordon, a cameraman and a producer we attempted to make the same journey but from Dublin.
It's easy to forget just how chaotic those days were.
Patriotism
The statutory authorities were struggling to get a grip and by the time we got to Dublin our airline had suspended all transatlantic flights.
Somehow we managed to get ourselves onto the first flight to Boston in six days. We had no idea what to expect on the other side.
The first thing we noticed on the drive to New York was the defiance. Americans wear their patriotism comfortably but following 9/11 it became amplified.
The four-by-fours on the freeway were all flying the stars and stripes and scrawled messages such as "America the Brave" were pasted to the windshields.
We drove into New York at eleven o'clock at night. We'd hoped to get there via the Brooklyn Battery Tunnel but it was closed.
In fact, all the bridges and tunnels in lower Manhattan were closed and were being guarded by police.
The authorities were still on a state of high alert.
We paused to look across the Hudson at the smouldering black space where the Twin Towers had been before taking a big detour to get into Midtown and our hotel on 42nd Street.
I will never forget the moment we arrived. The hotel overlooks one of the busiest and most famous boulevards anywhere in the world - Times Square - but it was completely empty.
Like a scene from an apocalyptic horror movie, the city that never sleeps seemed to have slipped into oblivion.
Lost loved ones
The following days were spent speaking to Northern Ireland expats and the Irish American community, especially the fire crews and police officers, whose colleagues had paid such a heavy price for their heroism.
On our second night in the city we attended a service at St Barnabas Church in Yonkers where prayers were said for the missing.
Outside there was a sight which even now seems unfathomable - hundreds of people, their faces vivid in candlelight, carrying images of their lost loved ones.
With the benefit of hindsight it seems crazy that people would hold out any hope that survivors would be found one week after the towers' collapsed but, sadly, grief isn't rational.
As the trucks rolled up West Street carrying pieces of the towers to a secure location where the debris would be pored over by forensic experts, we realised this was a scene which, although on a greater scale than anything we had ever witnessed, had a resonance for the victims of violence in Northern Ireland.
We took a cab ride to Woodside in Queens, a pleasant Irish American suburb across the river with neat houses surrounded by white picket fences.
Some of the pubs were a famous haunt for fundraisers hoping to raise a few dollars for "the cause" back in Ireland.
Inside we asked patrons whether the experience of terrorism on their own doorstep would finally put them off exporting misery across the Atlantic.
Every single patron we interviewed said they would no longer give money to the IRA.
Six weeks later the IRA started decommissioning. 9/11 really did change everything.