9/11: NI people who were in New York recall their memories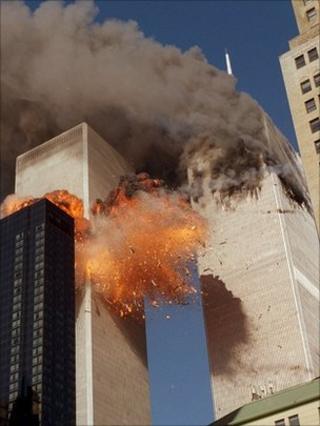 It is a decade on from the terrorist attacks on the World Trade Centre in New York which claimed more than 2,750 lives.
The tenth anniversary of 9/11 brings back memories for those people from Northern Ireland who were in New York at the time.
Conor O'Cleary was the Irish Times US correspondent and witnessed the attacks from his office close by.
"I was at work in my office and the window looked up at the trade centre about three buildings away, and I heard an enormous explosion which I thought was a bomb and I looked out and saw this massive hole above the 90th floor of the north tower," he recalled.
"It wasn't until 10 minutes later when I heard a news flash that I realised that this had been a plane, and then of course, just after nine o'clock, the second plane hit.
"I was watching a man in the north tower waving a white cloth as if looking for help and I just caught out of the corner of my eye the second plane coming in over the Hudson river."
Connection
Mr O'Cleary said he had a connection with this man, as both looked at each other knowing they could not avoid the inevitable.
"The extraordinary thing is that the man with the white cloth, for almost an hour and a half, maybe even more, stood at a window with smoke around him and he didn't jump. He went down with the north tower when it collapsed," he added.
Mr O'Cleary then left his office and went over to the towers before they collapsed where he "saw things that nobody should ever see".
Former Presbyterian moderator Ken Newell was also in New York on a sabbatical.
He said he heard about the news when he turned on the radio and immediately drove back to the church he was working at outside New York.
When he arrived, there were about "40 people there just panicking because their loved ones and family were in New York".
"It was the rapid nature and the transformation of people's feelings and the panic that aroused that will always stay with me," he said.
Rev Newell said that day was a "defining moment" as internationally people came to embrace America.
Helen Rattigan had just moved to back to Newry after living in New York when the attacks happened.
She recollected the phone call with her sister who still lived there.
"She said it was total pandemonium, she said there were fighter jets flying over a bridge that she crosses in the mornings and she said that for the first time since World War Two, there were war ships in the harbour," Ms Rattigan said.
Although 10 years on, these vivid memories remain for many who like Mr O'Cleary still "remember that day like it was yesterday".