Delia Van Der Lenden reinstated as lay magistrate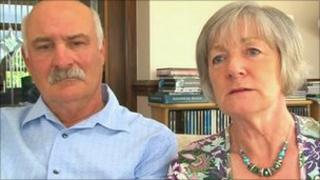 A lay magistrate, who was stood down from the bench after she and her son and husband were questioned about a kidnap and robbery, has been reinstated.
In August Delia Van Der Lenden was ordered by the Lord Chief Justice (LCJ) not to undertake any further duties.
The LCJ has now withdrawn that order after police confirmed that Mrs Van Der Lenden was not under investigation.
She has now resumed her duties as magistrate.
The part-time management consultant was formerly the chief executive of the Northern Ireland Childline charity.
She was arrested along with her husband Peter and son Ciaran, over an incident involving a £20,000 ransom being handed over after a woman and a teenager were held captive in County Monaghan.
At the time the police said they had "a duty to follow all lines of enquiry in an investigation".
Unwarranted
However, speaking about the circumstances surrounding her arrest, Mrs Van Der Lenden was highly critical of the police operation.
"We are such unlikely terrorists that even the most junior PSNI officer would have thought it wise to check their sources," she said.
In a statement released on Tuesday, Mr and Mrs Van Der Lenden said they were "preparing proceedings" against those who "conspired and contrived to subject them to the ordeal of unwarranted and unjustified arrest".
Mrs Van Der Lenden's son, Ciaran Cunningham, is a republican political activist.
In 2004 he was jailed for six years after pleading guilty to five charges of collecting information likely to be useful to terrorists while he working at the Royal Victoria Hospital.
Speaking at the time of her arrest, Mrs Van der Lenden said she did not share her son's political views and that he had "paid the price" for what he did.