Irish broadcasters 'poles apart' on McGuinness presidency bid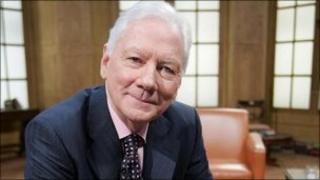 Veteran Irish broadcasters have shown themselves to be poles apart on Martin McGuinness's bid to be the next Irish president.
Gay Byrne attacked him calling him a man "trained and honed" to lie who would "wriggle and use weasel words".
But Eamon Dunphy hailed Sinn Fein's deputy first minister as another Nelson Mandela.
"McGuinness is too modest to claim the Mandela mantle but it is there," Mr Dunphy said.
In an interview with TV3, Mr Byrne acknowledged that the Northern Ireland deputy first minister was a strong contender for Irish president.
And he added that he was "very personable fellow", "a very smart talker" and "a very clever operator".
But he said: "I have always been a hater of Sinn Fein and a hater of the Provisional IRA, I've made that clear and they don't like me either.
"I've interviewed Martin McGuinness and Gerry Adams. They are so well honed that no interviewer gets anywhere with them.
"They lie all the time, they lie consistently and they don't mind lying and they rehearse their lies because they have been trained to lie."
However, Mr Dunphy condemned what he said was the "nonsense" surrounding Mr McGuinness' bid for the Irish presidency.
"This panic attack that elements in the southern media and politics have had is really quite extraordinary.
"They are afraid of this man principally because he has proved himself to be a great leader," he said.
"History is unfolding again we can look at Martin McGuinness and see what he has achieved and the stature he deserves as someone who has led his people away from the gun towards democratic politics."
Mr Dunphy said Gerry Adams and Martin McGuinness had accomplished "the greatest political achievement" that the country had seen in years.