Derry rail link upgrade will not happen for 2013 culture year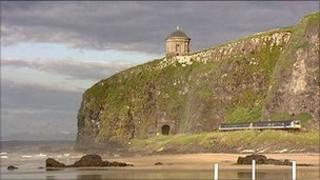 Translink has confirmed that an upgrade of the Coleraine to Londonderry railway line will not be completed before 2013, the year Derry becomes UK City of Culture.
In August, the transport minister announced that a planned upgrade would be delayed due to a lack of funding.
A full upgrade would cost £75m.
On Tuesday, Translink's general manager of rail services Mal McGreevy confirmed that even if the money was available, the 2013 deadline could not be met.
Mr McGreevy also ruled out the possibility of a new train stop at City of Derry Airport.
Transport Minister Danny Kennedy's announcement of the delay prompted concerns over the future of the service and the potential impact on Derry's year as UK City of Culture.
At the time Mr Kennedy met local politicians and said while he would ask for more money from the executive, he could not commit to the upgrade due to the lack of funding.
Speaking to Coleraine councillors on Tuesday, Mr McGreevy said that the upgrade was now more than a year behind and, even with the original plan, the project would only have been finished by early 2013.
"Even with compressing the project it is simply not possible to commence the project now and have everything secured and bolted down now in time for the year of the city of culture," he said.
Derry's City of Culture Company has warned the upgrade delay could cause problems in 2013.