Funding boost could aid Black Box's survival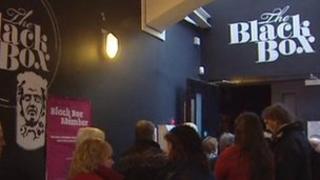 The Black Box arts venue in Belfast has been given a major boost to its chances of survival.
It opened in 2006 to fill a temporary gap in arts provision, and was due to close in April this year.
However, Belfast city council has voted to continue paying £25,000 a year to keep it going.
The venue's organisers said it had become an important part of the arts scene in Belfast.
They also said it could co-exist with the nearby Mac arts space which is due to open this year.
The venue currently gets £61,000 a year in public funding and hopes its other past funders, the Arts Council and the Department of Social Development will renew their grants.