Martin Finnegan inquest hears bike brake failed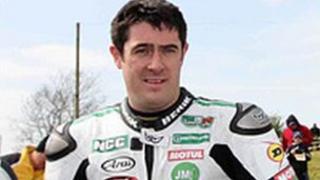 The inquest into the death of one of Ireland's top road racers has heard that his bike's front brake failed.
Martin Finnegan died in an accident at the Tandragee 100 in May 2008.
The crash happened during the second race of the day at a section of the course known as Marlacoo corner.
Fellow rider Ryan Farquhar, who was behind Mr Finnegan when he crashed, told the inquest he could not have slowed the bike sufficiently from around 150 mph without the front brake.
Mr Farquhar also said he saw smoke coming from the back of the Yamaha motor bike shortly before Mr Finnegan was thrown from the vehicle.
The coroner John Leckey said experts were divided on what caused the failure.
The inquest has also heard from Millsport Yamaha team engineers and from the scrutiniser who checked the motorcycle before the race.
The inquest continues.