Search for Cork fishermen hampered by bad weather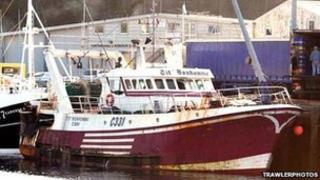 The search for five men missing after a fishing trawler sank off the west Cork coast on Sunday morning has been hampered by bad weather.
At 06:00 GMT, the 'Bonhomme' sent out a distress signal when it got into difficulty off the Glandore Coast.
Divers have been unable to search the wreck because of rough conditions.
A crew of six men were on board. One man, who is Egyptian, was rescued and is being treated at Cork University Hospital.
The boat was skippered by Michael Hayes from County Waterford.
Among the missing is 21-year-old Kevin Kershaw who was on work experience - this was his first ever fishing voyage.
Three Egyptian crew members who were also on board are also missing. It is understood the man who was rescued is a brother of the one of the men who is still missing.
Local priest Fr Michael Curran said the men were all from the same village and related to each other.
"Union hall has escaped any serious tragedy for a long time, everybody is supporting each other and trying to deal with the families of those in mourning," he said.
"I know most of them are Egyptian, but the people carry them in their hearts on an occasion like this."
Rough conditions
Irish Times journalist Barry Roche said it was a huge tragedy which had been made all the more poignant by the fact the boat sunk about five minutes from pulling up at the quayside, about a mile out.
"Although it is calm in port, we gather that out in the mouth of the harbour where the ship went aground and overturned, it is much rougher with two or three metre swells and that's the problem for divers who are hoping to get to the wreck," he said.
"They had hoped to go in on Monday morning but the conditions are just too rough and treacherous at the moment.
"They're hoping perhaps at around 16:30 GMT on Monday, when low tide happens that they may get an opportunity then to get in but there's no guarantee of that."
Police and naval diving teams are involved in the search operation.
Gerard O'Flynn from the Irish Coast Guard described the experience of the man who had been rescued.
"He managed to get ashore himself, he was located by a volunteer coastguard team on the rocks very close to where the boat foundered," he added.
"He was immediately transferred by coastguard helicopter to Cork University Hospital.
"He is in pretty good condition given what he went through."