Search for five missing Cork fishermen resumes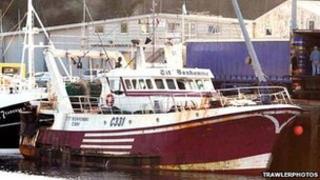 The search for five men missing after a fishing trawler sank off the west Cork coast on Sunday morning has resumed.
Efforts to locate the 'Bonhomme' close to the harbour had to be halted on Monday because of bad weather.
Navy and garda divers are hoping that conditions at the site where the trawler sank will be more suitable for diving on Tuesday.
A crew of six men were on board. One man, who is Egyptian, was rescued.
The ship sent out a distress signal when it got into difficulty off the Glandore coast at 06:00 GMT on Sunday.
The boat was skippered by Michael Hayes from County Waterford.
Among the missing is 21-year-old Kevin Kershaw who was on work experience - this was his first ever fishing voyage.
Three Egyptian crew members who were also on board are also missing. It is understood the man who was rescued is a brother of the one of the men who is still missing.