Cork trawler search team hopes for better weather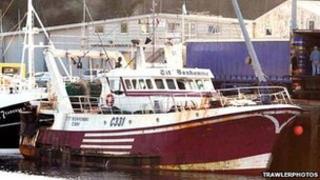 It is hoped better weather conditions on Wednesday will allow divers to reach a fishing vessel that sank off the west Cork coast.
Five men remain missing after the trawler, the Tit Bonhomme, got into difficulty at 06:00 GMT on Sunday.
One man was rescued from the water on the day of the sinking.
A 200-metre cordon has been placed around the sunken trawler near Glandore Harbour.
"Conditions in the immediate vicinity of the vessel remain particularly treacherous, only the naval and Garda dive teams with their extensive support should dive the Tit Bonhomme.
"We do not want to compound this tragedy with a further tragedy," said naval dive team leader, Lieutenant Conor Kirwan.
In a statement the Naval Service said the potential for frustration amongst family and friends of the missing men is fully appreciated by personnel involved in the search.
The boat was skippered by Michael Hayes from County Waterford.
Among the missing is 21-year-old Kevin Kershaw who was on work experience - this was his first ever fishing voyage.
Three Egyptian crew members who were also on board are also missing. It is understood the man who was rescued is a brother of the one of the men who is still missing.