Bodies found during search for Tit Bonhomme off Cork coast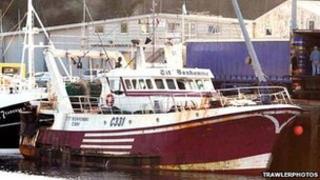 Two bodies have been recovered during the search for the crew of a fishing trawler off the Cork coast.
The Tit Bonhomme sank in heavy seas early on Sunday morning. One man was rescued from the water on the day of the sinking.
Earlier, the body of 26-year-old Attia Shaban was identified by one of his friends on the pier at Union Hall.
It is understood that divers have since recovered the body of 21-year-student Kevin Kershaw.
Skipper Michael Hayes, 52, and Egyptians Wael Mohammed and Saied Ali Eldin are still missing.
Mr Shaban had been in Ireland for two years and had recently moved to Skibbereen from Union Hall.
He had no other family in Ireland and was from Borg Meghezel, which is in Kafr El Sheikh region of Egypt.
On Wednesday, the Garda and naval dive teams made what search co-ordinators from the Irish Coastguard described as ''significant progress'' during a series of dives around the vessel.
The trawler appears to be wedged in a narrow inlet or cove and the wash and backwash on rocks on either side of it are said to be hampering the dive teams.
The Coastguard says this is one element of a comprehensive search which includes teams on the shore, trawlers outside and inside Glandore Harbour, helicopters from Shannon and Waterford and many smaller boats and kayaks checking dozens of narrow, isolated coves.