NI universities could be under two government departments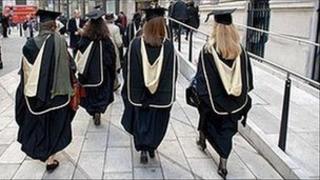 NI universities and teacher-training colleges could be controlled by two separate departments if the ministry they currently fall under is dissolved, a Stormont committee has heard.
The first and deputy first ministers have proposed that the Department for Employment and Learning (DEL) should be closed.
Its powers would be divided between the education and enterprise departments.
A four-month consultation process is taking place on the plans.
Senior staff from Queen's University and the University of Ulster declared their desire for higher education to be reallocated to the Department of Enterprise, Trade and Investment (DETI) at a meeting of the employment and learning committee.
Queen's University vice-chancellor Prof Sir Peter Gregson said he would prefer if higher education and further education remained linked and in a department "that is focused on the economic development".
"It is important that the demand for skills and the supply of skills are, as much as possible, linked," he said.
The TUV's Jim Allister said Stranmillis and St Mary's University Colleges in Belfast had expressed a preference to be reallocated with the Department of Education (DE).
Mr Allister also made reference the proposed merger of Stranmillis and Queen's University.
In response, Prof Tony Gallagher from Queen's said: "If DE has a bigger role with the teacher education part - not just in colleges but also the numbers for PGCE courses in the two universities - we would be quite comfortable with that, as long as that relationship was good."
Junket
Earlier this month, representatives for further education also advised the committee that they would prefer to be controlled by DETI.
After being advised to speak with their parties, committee members also decided against a fact-finding trip to America.
The committee had been considering travelling to San Diego to examine how research and development linked to universities could help create jobs.
Alastair Ross of the DUP said: "Given that we are in the dying days of this committee, it would be irresponsible to be spending our budget on what looks to be a junket."
Sinn Fein's Barry Elduff agreed and said he did not think it was "the priority of the DEL committee as it prepares to dissolve to be embarking on such study visits at this time".