Robber jailed for killing Co Armagh farmer Victor Stewart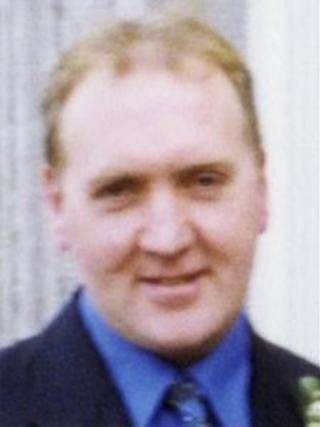 A 24-year-old man who admitted killing a County Armagh farmer during a robbery has been jailed for 13 years.
Peter Joseph Maloney, from Drumarg Park in Armagh, was originally charged with the murder of Victor Stewart but later pleaded guilty to manslaughter.
Mr Stewart, 45, was bludgeoned to death when a gang of four robbers ransacked his isolated home on Creevekeeran Road, Middletown in October 2008.
His family said they had been left with "a life sentence".
Newry Crown Court heard that Maloney - known as JP - had been part of a gang of four who attacked and assaulted the dairy farmer before stealing a safe from his house on the main Armagh to Monaghan road.
'Cruel'
Maloney had originally been the getaway driver, but helped to ransack Mr Stewart's home and was present when, in his words, "things got out of hand" and the farmer was bashed over the head to stop him struggling.
The judge, Kevin Finnegan, accepted that the defendent had not delivered the fatal blow, and following the sentencing on Tuesday, police issued an appeal for help to catch the other three members of the gang believed to have been involved in the death.
The judge added that the very moving victim impact reports from Mr Stewart's family paid testimony as to their continuing nightmare at the cruel and tragic loss of their youngest and favourite brother.
In a statement, the farmer's family said: "There are no words to describe the physical and emotional impact of the loss that we have suffered."
They added that their brother was "one of the most caring, generous, modest, decent and hard working people that you would ever have the privilege to meet" and said that one day he was killed he "would have worked 13 long hours on his farm".
Sentencing Maloney, the judge said one of the aggravating features of Mr Stewart's death was that it occurred in the course of a violent robbery and a vulnerable man was left to die alone in his isolated home by robbers who did nothing to get him help.
However, he added that it was accepted by the prosecution, on the agreed facts, that Maloney did not foresee that a weapon would be used on Mr Stewart or that serious harm was intended to be used against him.
The judge said it was also accepted that Maloney had not been armed, had not anticipated the type or level of violence which led to Mr Stewart's death, and had played no physical role in delivering the fatal blow.
Secretly recorded
Within months of his death, police were anonymously tipped off about Maloney's involvement by his estranged wife.
After she was traced, she secretly recorded him confessing to his part in the botched raid, which led to his arrest in Bristol just before Christmas 2010.
Although he never intended Mr Stewart's death, by his guilty plea to manslaughter he accepted responsibility for his part in the killing.
Investigation
Judge Finnegan said while Maloney's guilty pleas were not made at the first opportunity, he would give him credit for them nonetheless, and that credit would also be given for his remorse, which was likely to be genuine as it was first seen in the immediate aftermath of Mr Stewart's killing.
In addition to his 13 year sentence, the judge ordered Maloney to serve a further two years probation on his release.
Detective Chief Inspector Gareth Talbot welcomed the sentence and said he hoped it would provide "some small degree of comfort to the wider Stewart family".
However, he said police believed that Maloney "did not act alone" and insisted that the investigation by the PSNI's serious crime branch would continue.
"I am asking those people who have information about the events at Victor's house in Middletown to do the right thing and come forward," the detective added.