Priest treasures letter sent from Pope Francis, Cardinal Bergoglio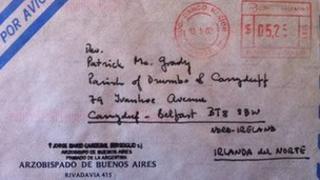 A decade before he was destined to become Pope Francis, Cardinal Bergoglio of Buenos Aires was surprised, but pleased to receive a letter of encouragement from a curate in the Parish of Carryduff, County Down.
He wasted no time in writing back to Father Feargal McGrady - in his own hand, the very same day.
"I remember being deeply impressed by a number of things he had said" said Father McGrady.
"He was having some kind of difficult time in his pastoral work... I remember feeling that I would like to write to him and offer him some prayerful support at that time."
The letter that arrived from Argentina a few weeks later has been treasured, and kept safely ever since.
Father McGrady was surprised that a cardinal had taken the time to write to him, a curate living many thousands of miles away in another country.
Lifting the treasured items, cards and a hand-written envelope out of their protective plastic folder, he reads them again.
"I thank you very much, especially for the prayers for me" wrote Cardinal Bergoglio. "I need it!"
A decade later Father McGrady is parish priest at St Anne's in Finaghy and Dunmurry.
He says he was surprised and delighted to see his old correspondent named as the new Pope, and immediately dug out the letter and read it again.
And on Sunday, parishioners at St Anne's were given a bit of insight into character of Pope Francis, as their priest read them some of the letter, and explained that the new Bishop of Rome clearly appreciates the prayers and support of ordinary people, no matter how far away.