Welfare reform motion tops Stormont debate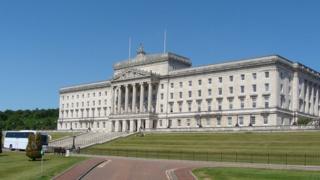 Assembly members are due to debate a Sinn Féin motion calling on the executive to oppose the "Tory cuts agenda" regarding welfare benefits.
The motion argues that welfare reform has already had a "disastrous impact" on vulnerable people in Britain.
Northern Ireland faces penalties for not endorsing welfare reforms passed by Westminster in February 2013.
First Minister Peter Robinson has said failure to implement the changes may cost the executive up to £1bn a year.
Earlier this month, Mr Robinson said Stormont was "no longer fit for purpose".
Speaking in the assembly on Monday night, Finance Minister Simon Hamilton described not implementing welfare changes as the biggest problem the executive faces.
"We are also in a position now where, because of the closing down of the welfare system across the water, we may have to develop our own IT system," he said.
"A recent letter from the deputy prime minister pointed out that the cost of that could be around a total of £1bn a year.
"That is £1bn of current and capital expenditure that, in the circumstances we find ourselves in, we cannot afford."
Unemployed
The parties cannot agree on legislating for welfare changes; leading to financial penalties from Westminster and a huge rift between the DUP and Sinn Féin.
Sinn Féin has led the opposition to the reforms.
Their motion, to be discussed on Tuesday, reads: "That this assembly notes with deep concern the disastrous impact of welfare cuts in Britain, particularly on the most vulnerable in society including families on low income, those with disabilities and those who are unemployed.
The motion continues that the assembly "asserts that a modern, caring society should place the protection of its most vulnerable citizens at the very top of its agenda; and calls on the executive to oppose this Tory cuts agenda".