David Cameron says he hopes Northern Ireland Executive will not collapse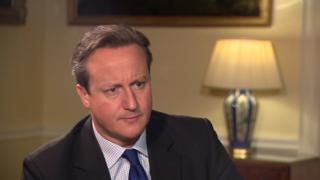 The Prime Minister David Cameron has said he does not want the Northern Ireland Executive to collapse.
Northern Ireland's First Minister Peter Robinson recently said the arrangements for devolved government at Stormont were "no longer fit for purpose".
In an interview for BBC News NI, Mr Cameron said what was in place was "far better than any of the alternatives".
He said devolution required "people working together to make compromises".
"The point of devolution is for the devolved institutions to deliver for the people of Northern Ireland," he said.
He also rejected claims by nationalist politicians and the Labour Party that the government had been detached regarding Northern Ireland
"I don't accept that. I don't think it is right once you have devolution to have the parties in Northern Ireland walking up Downing Street on a weekly basis asking you to intervene on this and asking you to intervene on that," he said.
"The point of devolution is for local politicians to deliver.
"Once you have got devolution it does not actually help for the British prime minister to be on the phone every five minutes to the Northern Irish parties telling them what to do.
Involved
"That would be the wrong thing to do .
"I am certainly not detached as any time I have been able to make a positive contribution to peace progress and devolved government in Northern Ireland I have.
"I will always be there."
Earlier this month, the Northern Ireland Executive formally warned the Treasury that it was on track to go into the red by the end of the year.
It comes as executive ministers have proved unable to resolve the deadlock over welfare reform and other financial pressures.
Stormont faces a shortfall of more than £200m in its budget for the current financial year, which ends in April.
This consists of just under £90m in fines imposed by the Treasury due to the executive's failure to implement welfare reforms introduced elsewhere in the UK and more than £100m in other pressures.
Mr Cameron warned that there was no "extra money available".
"Northern Ireland does get a good financial settlement. The problem is caused by the fact that the Northern Ireland Executive has not agreed to welfare changes in order to save money and that is their choice," he said.
The prime minister said he brought the G8 to Northern Ireland and the investment conference and said he brokered an agreement over economic reform.
Extensive discussions have taken place between the Treasury in London and the Stormont Executive over the issue of devolving corporation tax.
Stormont wants to be able to match the 12.5% tax rate in the Republic of Ireland.
Positive response
"The idea of devolving corporation tax is not my idea or initiative it is the parties in Northern Ireland that have asked for it," he said.
"Now I believe it is right to respond positively. We still want to respond positively, but obviously if it were to be devolved there would be a loss in income from the block grant."
The prime minister said he expected a decision to be made by early December.