Catriona Ruane: Stormont 'lads' club' putting off women from politics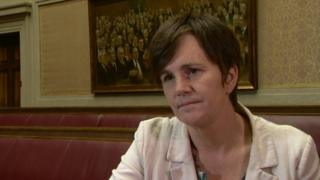 The Northern Ireland Assembly has been dismissed as a "lads' club", with a touch of misogyny thrown in.
The charge is made by one of the women who make up a fifth of one of the most heavily male-dominated legislatures in western Europe.
Sinn Féin's Catriona Ruane said it is putting off women from joining elected politics at Stormont.
Whatever the reason, the figures make poor reading for supporters of equality.
Compared with the Welsh Assembly, where 40% of members are women and the Scottish Parliament where it is 35%, Stormont is lagging far behind with only 22 of the 108 MLAs being women.
That figure is about to fall to 21 with Sinn Féin's Sue Ramsey dropping out for health reasons - to be replaced by - a man.
'Bordering on misogyny'
The assembly authorities have begun to address the issue, with the cross-party assembly and executive review committee currently carrying out an inquiry, taking evidence from a number of organisations and individuals.
Sinn Féin MLA Catriona Ruane sits on the committee, and is scathing about the atmosphere she said often greets women entering the assembly chamber.
Speaking on BBC NI's The View programme, she said: "I don't think our politics in the chamber here is a particularly good place to be for a woman.
"It's very adversarial politics; very dismissive, in many cases, of women. At times (it is) bordering on misogyny and that culture needs to change."
Ulster Unionist councillor Carol Black claimed the media are partly to blame.
She said that when she stood in a high profile by-election to Banbridge District Council in 2008 journalists were "very cruel".
"I was married, had a career in international banking in Australia," she said.
'Suit culture'
"I came home, my marriage failed and the media put it out that I was this single mother-of-two, nothing about my banking career. Here they had this immature, insipid woman with two children, unmarried. It just didn't look good."
But could women be partly to blame?
Lesley Macaulay, who has stood for election for both the Ulster Unionists and the NI Conservatives, said many women were too quick to put themselves down.
She said: "I hate to hear that because they don't know the potential that they've got, and there are so many people out there who have that potential.
"We need to take away the suit culture in politics and bring in that vibrant culture women can bring to this political world."
Gender quotas
One answer could be the introduction of gender quotas, which will be used for the first time in the next Dáil (Irish Parliament) elections in the Republic of Ireland.
Fine Gael MEP Mairead McGuinness welcomed the move.
"We have to take positive initiatives, so gender quotas is one of the strongest ways of doing it," she said.
"The key thing is to decide it's a problem, to take action to change it and then for the electorate to decide for themselves."
The View is available to watch on the BBC iPlayer.