Gerry Adams spreading blame for failing Stormont talks, says Varadkar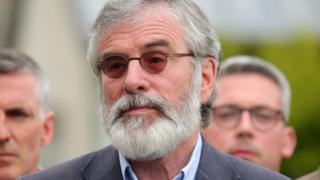 Sinn Féin president Gerry Adams has been accused by the Irish prime minister of trying to "spread the blame" for the failure of talks to restore power-sharing at Stormont.
In an angry exchange in the Dáil (Irish parliament), Leo Varadkar said Mr Adams sounds "like somebody who has already given up" on the negotiations.
Mr Adams replied: "I never give up."
The Democratic Unionist Party (DUP) and Sinn Féin have been talking in a bid to end months of political deadlock.
Northern Ireland has been without a devolved government since January, when a bitter dispute between the two parties caused their power-sharing executive to collapse.
Last week the UK government said they must agree a deal by next Monday if a new Northern Ireland Executive is to pass a budget for the region.
Northern Ireland Secretary James Brokenshire said the prospects of a deal did not look positive, and his view was echoed by Mr Varadkar.
'Red with anger'
On Tuesday, Mr Varadkar criticised Mr Adams in the Dáil for blaming "stubborn elements in political unionism" for the stalling of the talks.
"That's not a good way to talk about people who you're trying to make an agreement with at the moment," said Mr Varadkar.
He added that Mr Adams was "setting the scene to ensure that somebody else gets the blame".
"This doesn't sound to me like the language of somebody who's trying to lead their party into an agreement with the unionists, into cooperation with the British and Irish governments," he said.
"This sounds to me like somebody who has already given up and is already trying to spread the blame to others."
Mr Adams hit back by accusing the Fine Gael leader of giving false briefings to journalists in an attempt to undermine Sinn Féin's Stormont leader Michelle O'Neill.
He used an Irish term - "dearg le fearg" - to say that nationalists in Northern Ireland are red with anger about Mr Varadkar's tone.
"They are absolutely (red-faced with anger) with you over the tone that you have taken up," he said.
The DUP and Sinn Féin have blamed each other for the failure to restore the Northern Ireland Executive, with a lengthy rounds of talks failing to break the deadlock.
Among the main sticking points is Sinn Féin's demand for legislation to give official status to the Irish language, which the DUP has consistently said it will not agree to.