John Prescott warns Labour Party faces bankruptcy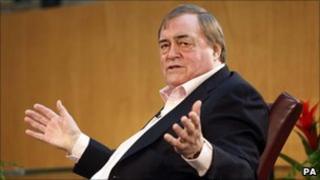 Labour former deputy prime minister John Prescott has warned his party faces bankruptcy if it cannot tackle its £20m of debt.
Lord Prescott, who hopes to become Labour's new treasurer, made the claim at the Scottish Parliament's annual Festival of Politics.
He said membership of the party was falling dramatically and called for limits on political parties' spending.
During the election the Conservatives were able to spend more than Labour.
Their campaign, particularly in key marginal seats, was part-funded by billionaire donor Lord Ashcroft.
Lord Prescott argued that the next Labour treasurer must be able to stand up to excessive demands for money from the party's leading lights.
He said: "The treasurer has got to say to the central body, you cannot keep on spending, we haven't got it.
"We want a strong treasurer who's involved in the membership drive, putting a proper financial account into the party.
'Cannot continue'
"The politics of organisation are equally as important as the politics of ideas. We forgot about the organisation bit."
Mr Prescott warned the party could not continue to conduct its financial affairs as it had in the past.
He said: "You can go on if you like and just have somebody doing what's always been the way.
"Well, we cannot continue to finance a political party in that way."