Labour defends leadership election rules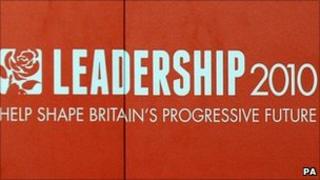 Labour has defended its leadership election rules amid evidence some people can cast multiple votes.
Labour MPs, MEPs, party members and members of affiliated trade unions and socialist societies are all entitled to take part in the contest.
But people can register for more than one vote by joining different bodies.
Senior MP Tony Lloyd said it reflected Labour's federal nature and that they had never said the contest was run on a strictly one member, one vote basis.
Five candidates - former cabinet ministers David and Ed Miliband, Ed Balls, Andy Burnham and backbencher Diane Abbott - are standing in the contest to succeed Gordon Brown as Labour leader.
Separate votes
More than three million people - including approximately 270 MPs and MEPs, 160,000 party members and more than two million affiliated members - are entitled to vote in the contest.
Nearly a million people voted in the last contested leadership election, in 1994.
Under Labour's rules, affiliated unions and socialist societies ballot their members and their votes are then divided proportionately, accounting for a third of the overall share of the vote.
The votes of MPs and MEPs and party members also account for a third each.
Research by the BBC found it was possible to join a number of unions or societies - more than 30 of which are affiliated to Labour - and secure separate votes in the leadership contest.
Martin Rathelder, director of the Socialist Health Association, told BBC Radio 4's Today programme that he was entitled to three votes in the contest.
"I had a friend who had seven votes when Tony Blair was elected," he said. "It is fair in that as much anybody who wants to become a member of these various societies can."
While it was "fairly common" for people to be a member of both a union and socialist society, Martin Dore, from the Socialist Educational Association, said this would not affect the outcome of the contest.
He said the electoral rules meant the votes of elected representatives, party members and affiliated members carried different weights, with the votes of MPs and MEPs counting for more.
"Roughly the vote of one MP is worth about 100 members. And the vote of one member is worth the vote of about 10 affiliates," he said.
"I don't think there is going to be any mass inundation of people trying to joining a socialist society at the last moment in order to influence the vote."
Under changes agreed at the 1993 party conference under then leader John Smith, unions were required to ballot members individually on decisions affecting the party - abolishing the "block vote".
'Practical necessity'
Tony Lloyd, chairman of the Parliamentary Labour Party (PLP), said Labour had "never claimed" the election was conducted on a strictly one member, one vote basis, and the ballot reflected the unique structure of the party.
It was a "little fanciful" to suggest people would actively seek to get multiple votes in the contest, he said, pointing out they would have to pay multiple membership fees for the privilege.
"What is really legitimate in terms of our democracy is that the leader of Labour emerges as somebody who has the confidence of those three different distinct parts," he said.
"Having a system that recognises Labour's federal structure is not illogical and not actually illegitimate. Rather that opposite. It is a practical necessity to make sure we have a robust system to have a leader who has the respect and support of all of our party."
Voting began on Wednesday and people joining the Labour Party by 8 September will still be eligible to vote in the contest - the outcome of which will be announced on 25 September.