William Hague grateful for public support after rumours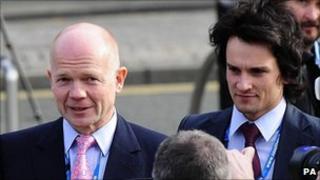 Foreign Secretary William Hague says he has received "huge public support" since making a frank statement about his private life earlier this week.
In it, he denied having an "improper relationship" with a male aide and revealed that his wife Ffion had suffered several miscarriages.
Mr Hague said on Twitter the couple wanted to say a "big thank you" for the letters and e-mails they had received.
Education Secretary Michael Gove said Mr Hague had acted with "dignity".
Questions were raised about Mr Hague's judgement after he released the statement on Wednesday, and Tory peer Lord Tebbit said he had been "naive at best, foolish at worst".
But the foreign secretary said he had felt compelled to comment following days of "press and internet speculation" about his relationship with special adviser Christopher Myers, who has since resigned.
Mr Hague said the miscarriages, one as recently as this summer, had been "immensely painful and traumatic" for the couple, but their 13-year marriage was strong.
'Gifted politician'
Writing on the micro-blogging website Twitter on Sunday, Mr Hague said: "Feel I must say a big thank you from Ffion and me for the huge public support, on twitter, in letters and in emails."
Earlier on Sunday, Mr Hague received strong public backing from Cabinet colleague Mr Gove.
He told the BBC's Andrew Marr Show: "William is an outstanding foreign secretary, one of the most gifted politicians of our time.
"I feel admiration for the dignity with which he has always handled himself. There have been all sorts of attempts in the past to throw stuff at him, not least when he was leader.
"William is a real asset to frontline politics. We lucky to have him in public service."