William Hague: Axing small embassies 'false economy'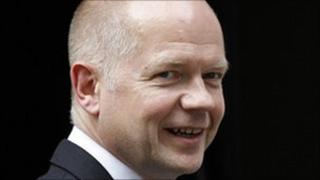 Closing dozens of small embassies to save money would be a "false economy", William Hague has told MPs.
The foreign secretary said the UK got "value for money" out of the Foreign Office (FCO) whose spending was less than that of Kent County Council.
The FCO accounted for just 0.3% of total spending and closing the cheapest 40 missions would save £2.5m.
He also played down reports the BBC's Burmese service could be axed in spending cuts.
In October Chancellor George Osborne will outline plans for most Whitehall departments to make cuts of around 25%, in an effort to reduce the £155bn budget deficit
In evidence to the foreign affairs committee, Mr Hague was asked how cuts might affect the FCO's international operations.
'Essential'
Mr Hague - who stressed he could not pre-empt the comprehensive spending review - said he was not intending that cuts would "have a dramatic effect on our role in world affairs".
He said he was flagging up with the whole of the government the "large unplanned" spending cuts the department had already been through over the past few years.
The FCO network was an "essential part of the infrastructure of this country for economic recovery" but there was scope for savings, particularly in areas where there were several offices, or where premises could be combined with the Department for International Development or the British Council.
The UK has 261 overseas missions - comparable to France's 279 - but while France had a budget of nearly £4bn to run them, the FCO managed on a budget half that size, he said.
"The entire spending on the Foreign Office, including the World Service and the British Council... is less than the spending of Kent County Council, so this country gets pretty good value for money from our overseas operations."
"If you closed the 40 cheapest posts... you would only save £2.5m, which is why whatever we have to do... it's quite unlikely one would chose the option of 'let's close dozens of posts'."
To save a large amount of money the government would have to close the more expensive posts - like Kabul or Baghdad - which was "inconceivable".
"Closing the small missions around the world is a false economy on the whole. That's not to say they can't sometimes be rationalised, that two countries can be served together from one central point.
'Gross embarrassment'
But he said it would be a "mistake" to withdraw the UK's diplomatic presence: "I'm not looking to have serious further reductions in the size of that network and I think it would be a major national error to do so."
Former Lib Dem leader Sir Menzies Campbell said he was encouraged by Mr Hague's comments but he hoped that local staff at embassies would not be asked to work "a week for nothing" - something that had happened in the US Embassy in the last year which he had heard had been a "gross embarrassment" to the ambassador.
Asked about the BBC World Service - which is funded by the Foreign Office - Mr Hague said it was important that the service maintained its reach but it would have to make savings.
However he played down reports the Burma service - which is broadcast from Bangkok and London - could be axed, saying it "doesn't cost very much" and "probably wouldn't be a very good way of saving money". He added no requests to shut the service had been received, considered or granted.
"Can the BBC World Service make itself more efficient and therefore contribute to the spending round? Yes, I think it can and it thinks it can," he said.
"Can we find a settlement with the World Service that allows it to become more efficient without actually reducing those essential services that you and I care about so much? Let's hope we can."
He also suggested that some savings could be found from the FCO budget by paying for its overseas aid work from the Department for International Development - whose funding is one of the only areas to be ring fenced.