Ed Miliband: Labour race is 'moving to me'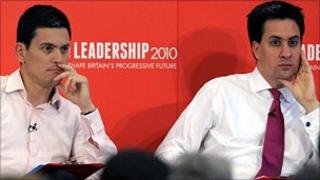 Labour leadership contender Ed Miliband has said he thinks the race is "moving towards" him, as a poll suggests he will narrowly win.
Of his brother and rival, David, he told Sky News: "He is an excellent candidate but I think I'm the best candidate."
But David Miliband told the BBC he was the leader "the Tories fear".
The Milibands, Ed Balls, Andy Burnham and Diane Abbott are vying to succeed Gordon Brown as Labour Party leader.
More than three million people - including approximately 270 MPs and MEPs, 160,000 party members and more than two million affiliated members - are entitled to vote in the contest.
A YouGov poll in the Sunday Times of more than 1,000 party members and 718 members of affiliated unions put David Miliband ahead on first-preference votes.
But it suggested his younger brother could nudge ahead when second preferences were taken into account - as they will be if no candidate gets more than 50% of votes.
The poll predicted if MPs who supported the other three candidates spread their second preferences equally, Ed Miliband could win on 51% with his brother on 49%.
It suggested that David Miliband's support was strong among MPs and MEPS while his brother was ahead among trade union members.
'Massive asset'
Shadow Energy Secretary Ed Miliband told Sky News' Sunday Live he believed the party was "turning to me" as voting continues ahead of the winner being announced on 25 September.
"My sense is that it's moving towards me in every section of the electoral college, including the Parliamentary Labour Party, and it does depend on people's second and sometimes third preferences."
He said his message was getting through that "we need to understand that New Labour was great for its time and we've got to keep some parts of it" but also "move on, change, admit some of the things we got wrong".
But he said he would be working up to the end for every available vote.
Of his brother - the shadow foreign secretary - he said he was a "massive asset to the Labour Party".
"He is an excellent candidate but I think I'm the best candidate and the reason I think I'm the best candidate is that I think I have got the better understanding... of the scale of change our party needs."
Not left v right
But David Miliband told BBC One's Politics Show: "I am the candidate who can lead Labour to take on David Cameron. That is the issue for Labour Party members. They are watching this programme, they have their ballot papers sitting on their kitchen table or their mantelpiece.
"I am saying to them: Vote for a leader who can speak to the public as well as the party, vote for a leader who unites the party from [veteran left wing MP] Dennis Skinner to [former chancellor] Alistair Darling. Vote for a leader who the Tories fear."
But he said his brother was a "lovely guy" and nothing would damage their relationship.
Acting Labour leader Harriet Harman told the BBC it was wrong to claim the contest between the Milibands was a battle between the left and the right of the party.
She said: "They are different people and they have got different approaches but I think if it's being characterised as a left/right division I think it's much more subtle, much more complicated than that.
"They have both got different strengths, all the candidates have got different strengths.
"And I think the party knows that when the leader is chosen everybody will unite behind them."
She also said the party's leadership contest had been "vigorous" and 32,000 people had joined Labour since 6 May - a third of them former Lib Dem supporters "dismayed" about the coalition.