Gordon Brown to be visiting politics fellow at Harvard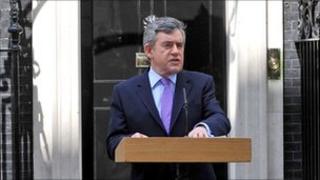 Former Prime Minister Gordon Brown will spend a few days teaching politics at one of America's most prestigious universities this autumn.
Mr Brown will be a visiting fellow at Harvard's Institute of Politics in the week of 20 September.
Visiting fellows traditionally lead student discussion groups and take part in public policy classes.
It is not yet clear if he will return in time to see his replacement as Labour leader unveiled on 25 September.
In what will be Mr Brown's first major speech since standing down as prime minister in May, he will deliver a lecture on international political economy at Harvard's John F Kennedy Jr forum on 23 September.
Students and staff were being encouraged to enter a lottery for tickets to the event on the Harvard website.
International development
Harvard Institute of Politics interim director John Culver said: "We are confident our students, faculty and university community will enjoy engaging with Gordon Brown, a prominent international leader with experience at the highest levels of government and public service."
Other visiting fellows for autumn 2010 include the former mayor of Detroit, Dennis Archer, political reporter Susan Milligan, the former prime minister of Haiti Michele Pierre-Louis, former Israeli minister Ophir Pines-Paz, ex US education secretary Margaret Spellings and former police chief John Timoney.
Mr Brown, who briefly worked as a college lecturer in the 1970s, before becoming an MP, has said in the past that he would like to work in education when he quits politics.
Mr Brown has kept a relatively low profie since standing down as prime minister on 11 May, when his failure to agree a power-sharing deal with the Liberal Democrats ended 13 years of Labour rule.
But although he has been rarely glimpsed in the House of Commons chamber, there are no indications that he is planning to stand down as an MP for his home area of Kirkcaldy and Cowdenbeath.
He has been writing a book on the global economic crisis and has set up a charitable foundation, the Office of Sarah and Gordon Brown, the staffing costs of which are to be funded by income from his speaking engagements.
He has previously indicated that he would not be following in the footsteps of his predecessor as prime minister and Labour leader, Tony Blair, by taking up lucrative business directorships but would concentrate instead on his passion for international development.
He has taken up unpaid roles in the Global Campaign for Education's High Level Panel on Education for All and has vowed to devote time to helping more children get access to schooling around the world and boosting internet development in Africa.
He will also join the board of the World Wide Web Foundation, another unpaid role.