Phil Woolas defends 'extremist vote' election claim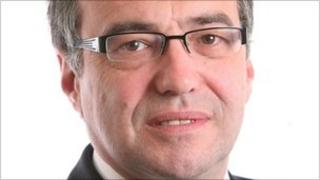 Ex-minister Phil Woolas has defended Labour election campaign leaflets which suggested his Lib Dem rival set out to woo the "extremist vote".
He told an election court he believed Elwyn Watkins "pandered" to extremists by not condemning a controversial group which apparently endorsed him.
Mr Watkins is challenging the election result by claiming it was swayed by false statements in Labour leaflets.
Labour MP Mr Woolas won his Oldham East and Saddleworth seat by just 103 votes.
'False statements'
Mr Watkins has brought the case under Section 106 of the Representation of the People Act, which makes it an offence to publish "any false statement of fact in relation to the candidate's personal character or conduct" to prevent them being elected - unless they believed it was true and had "reasonable grounds" to do so.
If he wins, Labour MP Mr Woolas could be stripped of public office and the election in that seat held again.
The specially convened election court has already heard Mr Watkins's claim that Mr Woolas "sought to make the white folk angry" in the general election campaign because he thought he would lose his seat.
A Labour election newspaper, The Examiner, ran a photo of the Lib Dem with the headline "Watkins accused of wooing extremist vote". Above it was a photograph of some militant Muslims, which, the court has already heard was not taken in Oldham but in London, four years ago.
The court has already been told that Mr Watkins was apparently endorsed by a Muslim group Mr Woolas regarded as extremist, and had not commented on the subject.
Asked if he thought Mr Watkins had sought their support or links to people who endorsed violence, Mr Woolas said: "I do not believe Mr Watkins supports violence.
"My view was that the local Lib Dem party was trying to get support from the side of the spectrum which was being persuaded by those views. By their woolliness on the issue they were giving succour to that vote. I saw it was pandering to these votes."
Anti-racism campaigner
He added: "If you do not state your view very clearly the extremist view gets more kudos in the community. If you pander to these it is the road to hell."
He said it was "politically naive" of Mr Watkins not to condemn the group, the Muslim Public Affairs Committee.
It is claimed Mr Woolas also sought to suggest he was being targeted by extremists but the former immigration minister told the court the militant threat before the election was genuine: "There was a fear of violence, there were reports of scuffles, there was an attack on a Labour candidate."
He said the local Asian community urged him to "highlight what they saw as a slur on them" and said he had built a reputation for campaigning against racism.
"The Muslim people wanted me to stand up against extremists and I feel very strongly about that."
He was asked about an email from his election agent, asking if they "could get away" with focusing on Muslim extremists in an election leaflet.
Mr Woolas denied that was a legal reference: "The idea that I set out to break the law never came into our minds.
"It would be political suicide, as well as wrong."
It is the first case of its kind for 99 years. Mr Watkins was given leave to challenge the election result by the High Court in July.
Two High Court judges, Mr Justice Griffith Williams and Mr Justice Nigel Teare are hearing the case at a specially convened election court at Saddleworth Civic Hall in Uppermill, Oldham.