Cuts could 'wreck' defence sector, union says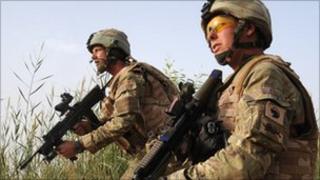 Government spending cuts could end up "wrecking" the UK defence manufacturing industry, a union has warned.
Unite was responding to a study suggesting that a potential 26% drop in funding could see one-in-six jobs go.
Analysis by Oxford Economics says more than 55,000 skilled manufacturing jobs may be at risk.
The Ministry of Defence said the Strategic Defence and Security Review was ongoing and no decisions had been reached.
An MoD spokesman said: "The National Security Council is considering options for the future... Decisions will be announced in October and until then it would not be appropriate to comment on speculation."
Annual defence spending in the UK currently stands at about £37bn.
The spending review of all UK government departments is taking place at the same time as the review into the future shape and size of the armed forces.
Unite said defence industry jobs tended to be concentrated in economically deprived regions of the country where other posts were hard to find.
Unite's national officer for defence, Bernie Hamilton, said: "Tens of thousands of job cuts in some of Britain's most deprived regions will have tragic consequences. These skilled manufacturing jobs won't get replaced.
"The government's plans would also have a knock-on effect on the wider manufacturing sector as the research, development and technical innovation created in defence is transferred to other strategically important sectors such as aerospace, automotive an energy."
He added the coalition appeared to believe that "wrecking the UK's sovereignty to manufacture defence equipment is a price worth paying".
Unite said more than 300,000 jobs relied on the defence industry and large numbers of workers will be made unemployed if speculation about cuts were confirmed.
The union's comments comes after Scotland's First Minister Alex Salmond warned against the cancellation of two Royal Navy aircraft carrier contracts.
In a submission to the defence review, he said such a decision could lead to the end of shipbuilding in Scotland.
It is feared that any downgrading of an aircraft carriers programme could cost thousands of jobs at shipyards on the Clyde and at Rosyth.