MPs' expenses: Hundreds of claims rejected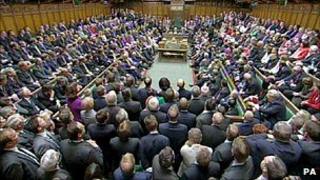 More than 1,000 claims made by MPs during the first phase of their new expenses regime were rejected, it has emerged.
A Freedom of Information request by the Times showed that 1,574 claims worth £116,359 made between May and September were not paid by the new watchdog.
Some were due to errors made by the expenses body, others because MPs provided "insufficient evidence".
All claims paid between 7 May and 31 August will be published on Thursday.
But rejected claims will not be included in this first batch of expenses - to give MPs time to get used to the new system.
The list of rejected claims obtained by the Times does not name the MPs who made them.
Commonly rejected claims include those for hiring photocopiers, printers and shredders, food and drink claims which are only allowed when Parliament sits late and first class and other travel claims for which "insufficient evidence" was supplied.
Many of those will have been paid out later on, once the MP supplied the right information.
MPs asked for 244 cases to be reviewed - of which 223 have been completed so far.
The expenses body - the Independent Parliamentary Standards Authority (Ipsa) - said 83 were simply a case of insufficient evidence being supplied, many of which will eventually have been paid.
A further 108 were due to mistakes by Ipsa, 23 were ruled to have been correctly rejected and in nine cases the appeal was partly upheld.
A spokesman for Ipsa said: "We assess that MPs have been thoughtful and proper in making their claims. Where we have queried a claim, it has been the result of misunderstanding as people adapt to the new scheme."
Labour MP John Mann told BBC Radio 5 live said the expenses system was improving but added: "It's taking time and it shows how deep rooted some of the problems were."
He said it would help if there was more transparency and people could see which were administrative errors and if there had been attempts at over claiming.
He added: "Transparency needs to be the order of the day. Then people can criticise as much as they want."