Lib Dems can beat Labour in Oldham, says Nick Clegg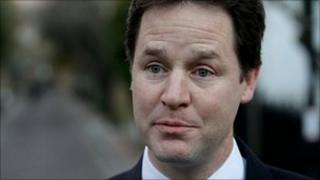 Nick Clegg has said the Liberal Democrats "are here to win" the Oldham East and Saddleworth by-election.
The deputy prime minister is paying his second visit to the seat, which Labour's Phil Woolas won by 103 votes at May's general election.
Mr Woolas was later removed as an MP, prompting a by-election on 13 January.
Mr Clegg criticised Labour's "mess", but his remarks come as some opinion polls suggest Lib Dem support has fallen as low as 8% nationally.
Prime Minister David Cameron has yet to campaign in Oldham and Saddleworth, although he is expected to make an appearance in the next few days.
At the general election Mr Woolas got 31.9% of votes and Lib Dem Elwyn Watkins 31.6%, with Conservative candidate Kashif Ali, who is standing again, getting 26.4%. The BNP got 5.7% of votes, UKIP 3.9% and the Christian Party 0.5%.
'Wrong time'
The by-election is taking place after a court annulled the general election result. It found former immigration minister Mr Woolas, who was banned from standing for elected office for three years, had made false statements about second-placed Mr Watkins.
Mr Clegg said: "We are here to win. I think the choice in Oldham East and Saddleworth is much like the choice in the rest of the country.
"This is the wrong time for indecision. This is the wrong time to duck tough choices and I think the people here deserve more than a blank sheet of paper from Labour.
"They deserve answers and what we are doing, the Liberal Democrats, is rolling up our sleeves to sort out the mess we have inherited from Labour to provide a better future for people here and indeed the rest of the country.
"The choice is basically between do you face up to the problems we have got or do you run away from them."
Mr Clegg said he wanted "a good, clean contest where people behave in a grown-up way", adding that the voters of Oldham East and Saddleworth faced a "fundamental" choice.
'Three-horse race'
Conservative candidate Mr Ali told the BBC News Channel: "It's getting very close. There's no truth in the suggestion we are running a soft campaign."
He added: "We are seeing a momentum building towards the Conservative Party. It's going to be a tough race but it's a three-horse race."
The BNP's Derek Adams said the main parties were ignoring the issue of immigration.
He told the BBC: "Different political parties have come to power on a promise to scrap or cut immigration and they have never done it."
UKIP's candidate Paul Nuttall, who is already a member of the European Parliament, said his party needed to "get MPs elected at Westminster" to enable the country to leave the European Union.
He added: "We are stronger on crime and immigration than the other parties and we hope to get elected."
The by-election is viewed as the first major test of how the Conservatives and Lib Dems campaign against each other, while working together in coalition.
The full list of candidates (in alphabetical order) is:
Debbie Abrahams (Labour)
Derek Adams (British National Party)
Kashif Ali (Conservative)
Peter Allen (Green Party)
David Bishop (Bus-Pass Elvis Party)
The Flying Brick (Monster Raving Loony Party)
Loz Kaye (Pirate Party of the United Kingdom)
Stephen Morris (English Democrats)
Paul Nuttall MEP (UK Independence Party)
Elwyn Watkins (Liberal Democrats)