David Miliband set to join Sunderland football club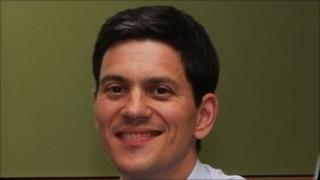 Former Foreign Secretary David Miliband is in talks over joining the board of a Premier League football club as he continues to search for a new role.
The defeated Labour leadership contender is in discussions with Sunderland over a non-executive post.
He would focus on international and community work, a club spokesman said.
Mr Miliband was also reported to have pitched TV ideas to the BBC and is set to become a volunteer politics teacher at his local school in North London.
He and wife Louise, a concert violinist, have also set up a company, The Office of David Miliband, with registered offices in London's West End - in a move reminiscent of his former mentor Tony Blair, who set up The Office of Tony Blair when he stood down as prime minister.
'Left winger'
Mr Miliband, who lost out to younger brother Ed in last summer's Labour leadership contest, has rejected talk of becoming Britain's next ambassador to Washington.
Sunderland chairman Niall Quinn approached the 45-year-old Arsenal supporter after his Labour leadership defeat and Mr Miliband has met club officials to discuss becoming the public voice of the club around the world.
In a statement, Mr Quinn said: "We're always challenging ourselves to find new ways to grow and develop the club and to make it stronger.
"We have had talks with David Miliband about a non executive role at the Club but have nothing further to report at the moment."
Sunderland manager Steve Bruce said: "I did ask for a left-winger. If it comes off, then fantastic.
"He's down the road in South Shields and in the area, and we would welcome him on board. If that's going to happen, it would be fantastic for the club.
"It just lifts the brand and what we are trying to achieve, and it might give a little more street cred, if that's the right word, to what we are trying to do."
According to The Daily Mail, the former cabinet minister, whose South Shields constituency is about eight miles north of Sunderland's Stadium of Light, on the North-East coast, would receive a salary of £50,000 a year for the role.
As a backbench MP, Mr Miliband earns £65,738-a-year.
Mr Miliband's spokesman said: "David Miliband is determined to continue to serve his constituency and pursue his interests in foreign and environmental policy.
"Discussions have taken place between David Miliband and Sunderland AFC about a non-executive role with the club focusing on his international and community work.
"As with all former ministers this is currently being considered by the advisory committee on business appointments."
'Programme ideas'
Mr Miliband would not be the first politician to take up a prominent role in football - former home and defence secretary John Reid is now chairman of Glasgow Celtic football club, while former Conservative Party chairman Lord Mawhinney became chairman of the Football League.
The former foreign secretary is also known for his love of the game - he played in goal for his school team and sometimes appeared for the all-party Parliamentary football team.
But his diary is rapidly filling up as he begins to put together an alternative career path following his departure from frontline politics.
He is due to become a volunteer politics teacher, for two hours a week, at his old North London school, Haverstock School in Chalk Farm.
On Sunday, the Observer reported he was considering a move into television presenting, like former Tory leadership hopeful Michael Portillo who carved out an alternative career as a TV pundit and documentary presenter after leaving the Commons. Mr Miliband intends to remain MP for South Shields.
The BBC said the former foreign secretary had approached the corporation "with some programme ideas".
"The BBC receives suggestions from a wide variety of sources and these will be considered in the same way as any others," it said, adding "no substantive discussions" had taken place.
Here is a selection of your comments:
David also scored an "own goal" at St James Park for the House of Commons Football team in a charity match against staff from the GMB, One NorthEast and local press Archie, Ulverston
I thought being an MP was a full-time job. Where does he get the time for all these extra activities? Dipesh, Leicester
Agree MP should be a full time job, but then again lots of Directorships, Trustee and volunteer roles, etc are held by people who have full time jobs too. And if Mr Milliband is used to being a Cabinet Minister on top of being a Constituency MP, then surely spending two hours a week volunteering and doing some stuff for a Football club is still going to leave him plenty of time and energy spare compared to what he is used to. Paul, Milton Keynes
Whether DM is actually a left-winger is somewhat debatable! Ben, London
David clearly doesn't know his constituency. South Shields is and always has been Black and White. Let's hope his appointment conincides with yet another humping for his part time employers this weekend. Joe, Ipswich
Think its a decent move,can only help with club progress,Joe by the way you have your South Sheilds and North Sheilds mixed up,South Sheilds black and white,not in my time !! Paul, Edinburgh
"is set to become a volunteer politics teacher at his local school in North London." Maybe its just me, but I would have thought considerably more of him for volunteering his teaching services in his constituency seat - South Shields, where the value added benefit of his teaching would be considerably greater than that derived from teaching in North London. Heron, South Shields
Re comment from Joe, sorry to blow his little theory out of the water. However South Shields has been 50/50 in terms of Sunderland and Newcastle supporters for years now and will continue to be so. A biased statement from a black and whiter, never! Kevin, South Shields
i agree with Joe from ipswich SUNDERLAND!!! and why as south shields MP is he not teaching at a constituency school or South Tyneside College which is just round the corner from his 'home' in south shields. as a person who voted for him i am dissapointed that he does not seem to be taking his role as our MP as seriously as he should Helen, south shields