Cameron attacks Miliband over Labour peers' tactics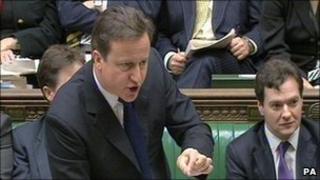 David Cameron has accused Ed Miliband of losing control of his party over claims of Labour delaying tactics in the House of Lords.
The prime minister asked why the Labour leader was allowing his peers to frustrate legislation on a voting change referendum which he supports.
Labour have denied deliberate delaying tactics, saying the bill needs "proper parliamentary scrutiny."
Peers have are taking part in the third and final day of debate in the Lords.
The House of Lords authorities are braced for another potential late night as peers examine proposals for a referendum on changing the Westminster voting system and cutting the number of MPs.
'Disgraceful'
Camp beds were set up and entertainment laid on for government peers on Monday night as ministers tried to ensure the Parliamentary Voting System and Constituencies Bill becomes law by 16 February.
The Electoral Commission has warned that unless the legislation is passed by that date, a referendum on changing to the Alternative Vote (AV) system for Westminster elections cannot take place as planned on 5 May.
Conservative MP Tony Baldry, speaking at prime minister's questions, accused Labour peers of some "pretty disgraceful delaying and filibustering tactics" during previous debates.
Mr Cameron said: "We should not be making concessions to a bunch, mainly of former MPs, who are supposed to be supporting the Right Honourable Gentleman (Mr Miliband), who wants the AV referendum to take place.
"So I have to ask him, if he is in favour of this referendum, and thinks it is so important, and so wants to stand on a platform, how has he lost control of his party?"
BBC deputy political editor James Landale said there had been a "change of atmosphere" in the Lords after Monday's all-night sitting, with "a sense that both sides are beginning to contemplate the possibility of pulling back from the brink" - and he suggested there were signs a deal was possible at some stage.
'Dinosaur pals'
The government suffered a defeat when peers supported proposals put forward by former Conservative cabinet minister Lord Fowler to keep the Isle of Wight as a distinct parliamentary constituency.
Wednesday's debate is expected to continue into the early hours of Thursday, with ministers urging Labour to give way.
It is possible that the bill's committee stage, in which its contents are looked at in detail, may continue into next week, with rules about intervals between this stage and its third reading in the House of Lords relaxed to allow the 16 February deadline to be reached.
It is also possible that the government will put down a motion allowing peers collectively to express a view that this legislation should proceed.
Labour's Leader in the Lords, Lord Hunt, told BBC Radio 5 live: "The opposition stands ready to discuss the bill with the government... Let's hope in the next few days we can have some constructive discussions."
But he appeared unwilling to give ground on Labour's central demand for the part of the bill that would reduce the number of MPs from 650 to 600 and redraw constituency boundaries, so that the they each contain about 75,000 voters, to be split off from the part dealing with an AV referendum and debated separately.
"We are not at all opposed to a referendum on the alternate vote in May but we do object to its linking to this second part of the bill, which is very much about trying to fix constituency boundaries to help the Conservative Party at the next election," he said.
He denied Labour peers were behaving like "dinosaurs" by tabling more than 100 amendments, adding: "We are progressive. We want to see reform in Parliament but you have to have proper scrutiny and that is what we are giving it."
Lord Strathclyde, the Conservative leader of the Lords, said he did not believe "a word" of Lord Hunt's claims.
"It's right that the two issues should be in the same bill because they will affect the same general election, which will be the next general election.
"The only reason why Philip (Lord Hunt) and his pals, his dinosaur pals, in the House of Lords, are so opposed to it is because they know that if they can delay then they know that the Boundaries Commission can not do the work in order to get it ready for the next general election."
He insisted the proposed redrawing of constituency boundaries would create a "fairer" system and would not necessarily benefit the Conservatives at the next election, as Labour have claimed.
He accused Labour of "bringing the House of Lords into disrepute" with their delaying tactics.