Communities threatened by government cuts, warns Unison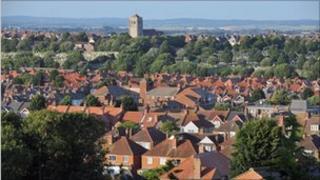 Government spending cuts threaten local communities and economic recovery, a public service union has warned.
Unison said 100,000 jobs would be lost in council, health, police, fire and education services after announcements in the past six weeks alone.
General secretary Dave Prentis said his union's document detailing the cuts made "very grim reading".
The government said it had taken steps ensure the most vulnerable communities were protected from the cuts.
Unison said services provided by those who were losing their positions were being put under threat.
'Desperate families'
The union said recent announcements included reductions of 1,600 jobs at Heart of England NHS Trust, and 1,200 council posts in Hampshire, 1,000 in Norfolk and 400 in East Sussex.
Some 8,000 jobs in the careers service were set to go before April, it added.
Mr Prentis said: "This dossier makes very grim reading. Behind every statistic there are families desperate to keep a roof over their heads, food on the table and the dignity of a decent job.
"With unemployment up to 2.5 million, the coalition cuts are blighting lives and wrecking the country's chances of recovery. Sacking workers and closing down essential services will not put the economy back on its feet."
A government spokesman said: "In order to tackle the deficit and promote growth we have had to take a number of tough decisions to restore economic confidence and support the recovery.
"Every part of the public sector needs to do its bit, but we have made sure that extra powers and funding freedoms are available to protect front line services and ensure that the most vulnerable communities are protected."
'Disproportionately hit'
Meanwhile, housing association body the National Housing Federation (HNF) has said local councils in England are planning cut funding for services for vulnerable people by more than the amount suggested by the government.
A survey by the federation of more than 130 housing associations, charities and community groups found that 73% of them had been told by their local authority to expect cuts of more than 12%.
The NHF said Chancellor George Osborne announced in his Spending Review in October that such funds would be broadly maintained, meaning a 12% cut over four years in real terms.
NHF chief executive David Orr said: "Local authorities are facing significant cuts to their budgets and face the inevitable task of deciding where savings can be made. But what we are beginning to see is that services which provide a lifeline to thousands of vulnerable people are being hit disproportionately by councils.
"Raiding these budgets to pay for other spending priorities runs contrary to what ministers want, what the public wants and most importantly what the vulnerable who rely upon them want to see happen."