Davos 2011: Nick Clegg defends 'measured' cuts plan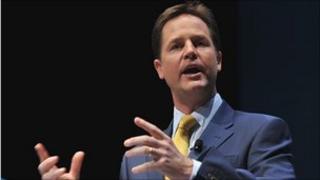 UK spending cut plans are not a "sword of Damocles" hanging over public services and quality of life, Deputy Prime Minister Nick Clegg has said.
The coalition government's deficit reduction plan was "measured", he told a meeting at the Davos economic summit.
Cuts would take place over four-and-a-half years but some people felt "psychologically" that they had already happened, Mr Clegg admitted.
State spending would still be higher in 2015 than it was in 1997, he said.
It was announced earlier this week that the UK economy had experienced an unexpected 0.5% downturn in the last quarter of 2010.
This has led critics to question whether the government's cuts programme was having a negative effect on growth.
Others argue that savings in areas like education, defence and council budgets are unnecessary and will damage many people's lives, through redundancies and poorer public services.
'Imposed gradually'
But Mr Clegg told an audience at Davos that plans outlined at last autumn's Spending Review were not a "gamble".
He added: "It was an inevitable decision. Some memories are very short. People tend to forget that, when this government was first formed, we had one of the largest deficits in the G20 and in the European Union...
"We were spending £120m a day on the interest - every day. If you don't take action, other people will force you to do it. It becomes a very fundamental issue of economic sovereignty.
"We have not imposed a sort of sword of Damocles of cuts. We have announced a plan that's imposed a course.
"I understand that people, psychologically, when they hear about it, think it's already happened. The vast majority of cuts haven't been introduced yet... They will be imposed gradually over a four-and-a-half-year period."
Mr Clegg said that, at the end of the coalition's projected time in power, in 2015, public spending will be 42% of gross domestic product, compared with 37% in 1997.
He added that, despite redundancies, there would be more people employed in the public sector than when Labour came to power
Mr Clegg insisted that cutting the budget deficit was a "necessary" part of promoting growth.
Responding to the latest economic figures, the deputy prime minister argued that it was important to promote a more balanced economy and praised the recently improved performance of the UK's manufacturing sector.