Don't sell trees, say campaigners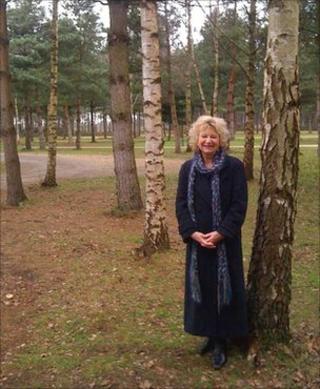 On an overcast weekday in January, with sleet swirling around the conifers, you would be forgiven for thinking Thetford Forest might be very quiet.
Yet step inside the High Lodge Visitors' Centre, which sits on the border between Suffolk and Norfolk, and there is a gaggle of excitable teenagers swapping tales of a morning's orienteering in the woods.
There is an inviting log fire in the corner and giant slabs of cake to replenish mountain bikers clad in fluorescent lycra and helmets.
Pinned to the wall, a poster, demanding: "Don't let our forests be sold."
There are similar posters pinned to trees in the car park.
The Friends of Thetford Forest Park, a voluntary group, is campaigning to keep the forest in the hands of the Forestry Commission. It appears organised, determined and vociferous.
The Forestry Commission in England currently manages about 1,500 pieces of land totalling 2,500 sq km - or 18% of English forests.
Ministers have begun a consultation on how these should be looked after in the future. They have suggested commercial woodland could be leased to commercial operators and so-called "heritage forests", which are popular with tourists or renowned for their wildlife, could be run by charitable trusts.
Campaigners fear weakening the public ownership of forests will damage them and restrict access.
"The core argument is we have 15 years of experience of working in this forest alongside the Forestry Commission and so we have seen, at first hand, its expert management of this area," Anne Mason, chairman of the Friends of Thetford Forest Park, says.
'Closing in'
The teenage orienteers, from Newmarket College, leave the visitors centre and head back to their coach.
Their teacher, Chris Genge, says: "We bring the students out into the woodlands because it is a different environment from the cities. Britain is closing in. It is getting very cramped and so I think any policy to take away woodland is insane."
There is a clear fear that the government's plans might restrict their access to the forest trails.
Richard Page, from Thetford, proudly lifts his mountain bike out of the back of his pick-up. He leans his bike up against a tree, and adds some extra air to the rear tyre.
"It is good to get out in the open and keep fit. I come down here every day. I don't know what I'd do if they shut this down. This government is shutting down lots of things and people have got to have some pleasure somewhere. I think that'd be terrible."
Ministers say alarmist media reports before the announcement of the consultation have misled people. Ancient woodlands, they insist, will be kept out of commercial hands and existing public access will be preserved.
But Anne Mason is not reassured.
She says: "A charitable trust would have to be expert in timber production, recognise tree diseases, manage all the health and safety aspects of public recreation here, and know all about archaeology."
The campaign, she admits, is "taking over her life" and so there would be no realistic prospect of volunteers being able to run the forests full-time.
She adds: "We will not let up our campaign raising public awareness of this. We will be lobbying ministers, the House of Lords, the House of Commons, whatever we can do. We care deeply about this."
In this wintry corner of East Anglia, ministers still have plenty of persuading to do.