Cameron voices 'grave concern' over Egypt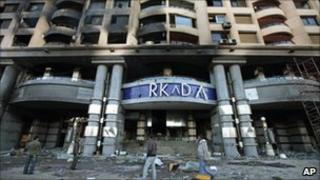 Prime Minister David Cameron has issued a joint statement with his French and German counterparts to express his "deep concern" over violence in Egypt.
He also personally telephoned President Hosni Mubarak to urge him to build "democratic legitimacy" in the country.
The UK Foreign Office (FCO) has advised against all but essential travel to several Egyptian cities.
It says resorts like Sharm El Sheikh are safe, but there are reports of road blocks and tighter security at hotels.
The FCO is now also recommending that any Britons "without a pressing need" to be in Cairo, Alexandria or Suez leave if it is safe for them to do so.
The US embassy in Cairo has stepped up its advice and is telling Americans in Egypt to consider leaving the country as soon as possible. It is reportedly arranging evacuation flights for its citizens from Monday.
Deadly clashes
In the joint statement, Mr Cameron, French President Nicolas Sarkozy and German Chancellor Angela Merkel called on President Mubarak "to avoid at all costs the use of violence against unarmed civilians".
Mr Cameron reiterated that message in his phone call, and according to a spokesman, urged the president "to accelerate political reform" and install "an inclusive government with the credibility to carry this agenda forward".
In the Egyptian capital, Cairo, thousands of demonstrators have ignored a curfew put in place between 1600 and 0800 local time. Troops have been deployed but have not taken any action.
Clashes between the protesters and the riot police have left at least 74 people dead since rallies began on Tuesday. About 2,000 people have been injured and there has been widespread looting.
The FCO is advising against travel to Cairo, Alexandria, Suez and Luxor, and extra consular staff are in the capital to help British nationals.
The warning also extends to Giza, a suburb of the capital where Egypt's most famous Pyramids and Sphinx are located.
The FCO has warned Britons against going out during the curfew, and has recommended they stay indoors at all times in areas affected by demonstrations.
About 30,000 British tourists remain in Egypt. Most are in Red Sea resorts which have so far not been affected by the disturbances, although excursions to the Egyptian capital and Luxor have been cancelled.
Flights are also affected and on Saturday, a BMI plane from London Heathrow was turned around mid-air in order to avoid landing in Cairo during the curfew.
BMI has also cancelled its flights to Cairo on Sunday, while British Airways and Egyptair have altered their schedules.
Easyjet's services to Luxor are operating, but passengers are being offered the opportunity to rebook for a later date.
Any British nationals requiring help or advice on the situation can call the FCO's helpline on 020 7008 0000 from the UK or (02) 2791 6000 in Egypt.
'Gunshots'
Rosemary Turberville, who is from London and staying in a suburb of Cairo, told the BBC: "The gunshots were evident last night... but in my particular area [now], it's pretty tranquil.
"I'm on the 10th floor. I can see people wandering about, some people with bags of shopping, so there may be a shop open down there, but I have plenty of supplies so I don't see the point in risking going outside."
Ms Turberville said she believed a small criminal element was responsible for the looting.
"It's tragic really because the people here are not like that, they're very peace-loving sweet people," she added.
Alex Belfield, a presenter with BBC Leeds and on holiday in Sharm El Sheikh, says the situation there is now at odds with claims that the resort is unaffected.
Road blocks are in force around the resort and are preventing a lot of hotel staff from getting to work.
However, he says it does appear that tourists travelling to and from the airport are being allowed through.
"This whole thing seemed a million miles away yesterday, but last night... when we got back [from dinner] the whole atmosphere had changed.
"The barricades had gone up at the front of the hotel... and there are 14 security guards in total, making it very clear we were not able to leave the resort.
"That's now been put in writing and stuck through the door. We're not allowed out until at least tomorrow, but we don't know why.
"The shops last night were shut as well and the atmosphere between the staff and tourists had really changed. They were glued to the TV and it had all become very serious."
Meanwhile, several hundred people held a noisy but peaceful demonstration at Egypt's embassy in London on Saturday.
Shadow foreign secretary Douglas Alexander said this was "the moment where Egypt can move from protest to progress".