Cherie Blair to head Labour group on women's rights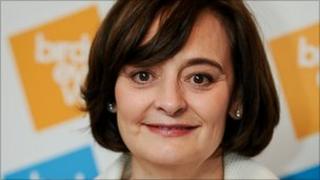 Cherie Blair is to lead a Labour group looking at improving the lives of women in the developing world.
The wife of former Prime Minister Tony Blair said she wanted to make a "real difference" in areas such as education and healthcare.
Labour leader Ed Miliband has called for "profound" changes to the party's policies and organisation.
The announcement of Mrs Blair's role comes ahead of the 100th anniversary of International Women's Day on Tuesday.
In November, Mr Miliband said Labour would be looking at all areas of policy, as they seek a return to power following the loss of the general election.
Mrs Blair's group will consider ways of "supporting the sustainable empowerment of women and girls in the developing world".
'Vital'
The barrister and part-time judge said: "Women are the drivers of change across the world. They are far more likely than men to invest their incomes back into their families - helping to drive up better health standards and educational opportunities for their children, which in turn benefits the wider community.
"That's why working for the economic independence of women is vital to the fight against global poverty. But there are so many barriers faced by women and girls in the developing world that they are often unable to participate in economic or political life and struggle to get access to healthcare and education for themselves, let alone their families.
"We need to look afresh at how countries like the UK, through their development efforts, can help make a real difference to the status and power of women in the developing world."
Mrs Blair's work will be overseen by Harriet Harman, the shadow international development secretary and Labour deputy leader.
She said: "The last 100 years have seen great progress for women and girls around the world but many challenges still exist. This policy group will examine how to tackle those challenges and ensure the empowerment of women and girls.
"Women don't want charity; they want justice and the opportunity to fulfil their own potential.
"I am delighted that Cherie Blair has agreed to chair this group. She is a committed campaigner for women and girls in the developing world. Her contribution will be invaluable."
Labour groups looking at work and pensions and tackling low pay have already begun their work.
International Women's Day, which has been celebrated since 1911, will this year incorporate the United Nations campaign calling for a "pathway to decent work for women".
Activities are planned in dozens of countries around the world.