Huhne hails 'green jobs' boost for 1,000 apprentices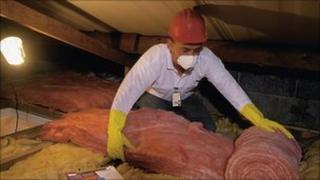 The government will help pay to train 1,000 apprentices to insulate homes as part of its "green deal" energy plan.
Announcing the move, Chris Huhne said a "big injection" of skills and cash was required if ambitious energy efficiency targets were to be realised.
The energy secretary also outlined deadlines for progress on electric car and carbon capture and storage schemes.
Environmental campaigners say there is a lack of clarity about how the UK will move to a low-carbon economy.
Mr Huhne heralded the apprenticeships scheme as evidence of how government and business should work together to create jobs and speed up the transition to a more sustainable economy.
'Changed Britain'
Under the plan, the government will cover the cost of training 16- to 18-year-old apprentices and will share the cost for over 19-year-olds with businesses, which may include B&Q and British Gas.
It is envisaged that the apprentices will become experts in installing cavity and solid wall insulation in homes and more energy-efficient heating systems in business premises.
Ministers want to accelerate the green deal programme - under which homeowners will get their properties insulated at no upfront cost and reimburse firms carrying out the work from the savings they make on their energy bills.
Mr Huhne said he hoped the programme would sustain 100,000 jobs within five years and that a "step-change" was needed to make energy-saving technology more widely available.
"To succeed, we will need a big injection of skills and investment," he said. "These apprenticeships are a perfect example of how government and business can work together to a low-carbon future."
Amid criticism that government plans to achieve this are too vague, he unveiled a draft "carbon plan" containing specific deadlines in high-priority areas such as power generation and transport.
The first contract to set up a demonstration carbon capture and storage project will be awarded by the end of the year, the Green Investment Bank will be operational by September 2012 and a "nationwide strategy" to promote installation of electric vehicle infrastructure will be in place by June.
"This carbon plan sets out a vision of a changed Britain," Mr Huhne said, "with more secure energy supply and more stable energy prices and benefiting from the jobs and growth a low-carbon economy will bring."
'Political interests'
BBC environment analyst Roger Harrabin said businesses had complained of a "policy vacuum" in energy policy amid uncertainty over oil price volatility, continuing support for technological development and changing consumer behaviour.
Friends of the Earth said development of a low-carbon economy had to be a "top priority" for ministers.
"Building a greener future must be at the heart of this month's Budget," its head of climate action, Mike Childs, said. "Thousands of new green jobs could be created if we invested in the UK's vast green energy potential and slashed energy waste.
"Continuing to put short-term political interests ahead of our long-term security will create an economic crisis that will dwarf our current financial problems."
Shadow energy secretary Meg Hillier said: "The Conservative's green tree is shedding its leaves. Huhne talks the talk but has not demonstrated any grip on delivering his promises. Liberal Democrats are prisoners in the boot of a Tory-driven car."
She also said the government was "ending the guaranteed apprenticeship for every 16-18 year old who wants one... the government has no plan for improving skill levels and no plan for green growth. The prospect is fewer opportunities, not more".