Older cattle travel restrictions in BSE safeguard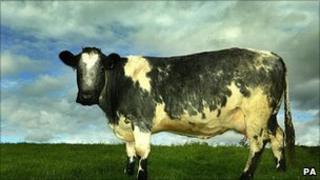 Ministers are to restrict the movement of the 53,000 UK cattle born or reared before August 1996 to stop any infected with BSE from entering the food chain.
Farmers will need a licence if they want to transport them, Agriculture minister Jim Paice said.
A probe found isolated cases of illegal trade in such animals for slaughter.
Ministers said controls to prevent such animals entering the food chain were "already strong" and the move should be seen as an "extra precaution".
Since the BSE crisis of the mid-1990s, it has been illegal to slaughter pre-1996 animals for food and specified risk material, such as brain and spinal cord, is removed from all animals after they are killed.
In addition, all cattle aged over four years are tested for BSE after slaughter and only those found to be negative are allowed into the food chain.
But last month a cattle dealer in Cumbria was jailed for 10 months for sending an over-age animal to slaughter for food and deliberately seeking to alter its identity to make it eligible for human consumption.
The offence was spotted by a vet at the abattoir concerned and reported to trading standards officials.
Government officials are currently looking into whether there could be any other incidences of illegal activity and are believed to be focusing on one case in particular.
Of the nine million cattle in the UK, about 53,000 were born before 1 August 1996 - 34,000 of these in England, 11,000 in Scotland, 8,000 in Wales and 3,660 in Northern Ireland.
'Good reputation'
In future, no licences will be given to farmers to move these cattle to market or through dealers.
Farmers will need permission to move cattle from their holdings, likely to be granted in special circumstances such as when they are moving properties.
Agriculture minister Jim Paice said he regretted the need to impose additional restrictions but they were necessary due to the "illegal activity by a few individuals".
"The industry has worked hard over the years to ensure British beef regained the good reputation it deserves, both home and abroad," he said. "We want to maintain this reputation so it is sensible to introduce the extra safeguard.
"It should not have much impact on most cattle keepers but it will give us additional confidence that these animals do not enter the food chain."
About 20% of cattle aged over 14 die each year. Government officials said the number of pre-1996 cattle was "declining steadily in line with expectations".