Landale online: Case for pension change but no deal yet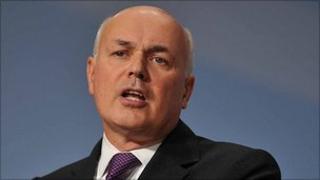 Read the papers and you could be forgiven for thinking the government is about to make radical reforms to the state pension system.
No longer would pensioners have to top up their basic state pension with a gaggle of complicated and means-tested top-ups like the pensions credit.
Instead, there is to be a simpler and higher flat rate universal pension for all worth £140 a week.
Well, not quite. Not yet.
Debate urged
All that happened on Tuesday is that Work and Pensions Secretary Iain Duncan Smith gave a speech making the case for reform.
He believes the current system is too complex and removes any incentive for people to save for their retirement. So he called for a "debate" to look at "options for simplifying the pensions system".
He said he was "working closely" with the Treasury on a new structure that would reward those who save. Chancellor George Osborne, he made clear, had been "seized of the importance of this project".
But Mr Duncan Smith did not say the new flat rate state pension will be £140 a week. He did not say how it would be paid for. He did not say when this policy may come into force.
'Ifs and buts'
He did not say when a much delayed green paper may be published - a document that in itself will be only a series of options to be considered. He did not say why people who have contributed national insurance all their lives should get the same pension as those who have not.
He did not say why rich pensioners should get a bigger state pension when richer parents are losing their child benefit.
Behind the scenes, Department for Work and Pensions (DWP) and Treasury sources suggest that the green paper may come before the summer, that they hope to start introducing at least some of the changes before the next election in 2015, that they hope the new system will be cost neutral because a simpler system may produce savings.
There are, therefore, a lot of ifs and buts.
The one substantive new fact in this story is that the Treasury is now onside in the process and supports the general concept of a flat-rate state pension. The chancellor is intending to say something broadly supportive as part of the Budget later this month.
"We are in a good place on this," said one Treasury source. "We are genuinely keen on it."
'Hurdles'
The Treasury and the DWP are equally keen to avoid the kind of split stories that followed their negotiations over Mr Duncan Smith's welfare reforms. But harmony of intent does not mean agreement on the detail and there are still, I am told, "hurdles to get over".
In sum, the government is trying to move the argument on pensions forward.
It has acted already to help today's pensioners by restoring the link between their pension and earnings from this April and by protecting many of their benefits, like their free TV licences and fuel payments. Now it is turning its attention to the pensioners of tomorrow.
But they are not there yet. Not by a long chalk.
Post script: It is also worth noting that in a week when the government is announcing cuts to many people's pay and pensions - see Tuesday's police report by Tom Winsor and Lord Hutton's public sector report on Thursday - it may perhaps be helpful for ministers to get a story out there that runs in the opposite direction, promising more cash rather than less. Just a thought.