Council tax bills 'to fall slightly this year' - CIPFA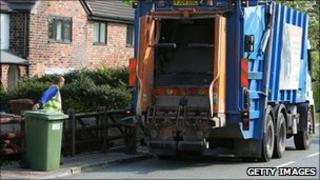 Average council tax bills for homes in England will fall slightly this year, a survey suggests.
The Chartered Institute of Public Finance and Accountancy found the average Band D household would pay £1,438.87 - down 35p on the 2010 level.
The government has supplied £650m to allow local authorities to ensure a council tax freeze.
Communities Secretary Eric Pickles said "real help now to assist with the cost of living" was being provided.
The institute, which received responses from 80% of billing authorities, found that some were cutting council tax levels while "a handful" were imposing increases.
It said a £650m "incentive fund" offered by ministers to encourage local authorities to avoid increasing bills this year had helped.
Chief executive Steve Freer said: "The government and councils have a shared interest in avoiding a public relations disaster of local people paying more for reduced services."
'Significant concerns'
Support from central government to local authorities had dropped 9.9% compared with last year which, combined with the council tax freeze, had seen budgets reduced by an average of 5.5%, the report said.
While two thirds of councils were targeting "back office" functions such as human resources and IT for reductions of between 5% and 20%, frontline services were also being affected.
Chief finance officers had "significant concerns about the high levels of risk associated with the implementation and delivery of these tough budgets", the institute said.
Almost 60% of councils had "fully or largely developed" plans to deal with budget cuts in subsequent years.
The Department for Communities and Local Government said that if council tax had risen by 5% - the cap set by Labour last year - it would have cost households £72 a year extra.
Mr Pickles said: "We have scrapped Labour's council tax revaluation, which would have hammered Middle England, and we are giving local residents new rights to veto excessive council tax rises in the future.
"This is real help now to assist with the cost of living. It is disgraceful that Ed Miliband's shadow ministers oppose this council tax freeze, and his Labour councils are revelling in politically motivated and cynical cuts to frontline services."