MI5 short of surveillance officers says minister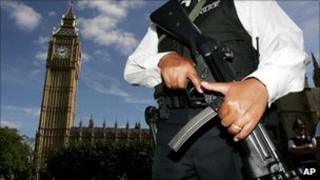 The government has revealed MI5 does not have enough spies to allow it to abolish control orders immediately.
Security Minister Baroness Pauline Neville-Jones said the Security Service needed to recruit and train more surveillance officers.
Ministers want to introduce a lighter touch regime, which depends on more surveillance, by the end of the year.
Parliament approved control orders until New Year's Eve, with ministers saying the replacement will be ready.
That revised system, known as Terrorism Prevention and Investigation Measures (TPIMs) includes many of the aspects of control orders but allows greater use of phones and freedom of movement.
But security chiefs want the new freedoms to be balanced by greater secret surveillance of the suspects.
The admission that the Security Service does not yet have enough surveillance officers came on Tuesday evening in a Parliamentary debate on renewing control orders until the end of the year.
The government needs to legislate to introduce TPIMs - but Baroness Neville-Jones told peers that even if the "looser regime" were in place, there was not yet enough manpower "to give the necessary security to the public".
"That surveillance does not exist at the moment," she said. "Individuals have to be recruited; people have to be trained; and we have to have extra capacity and capability in that area, which we do not have at the moment.
"I do not think it is reasonable to say that you should be able to abolish the existing regime for the individuals who are currently under control orders in the absence of the necessary conditions for a new regime."
The service recently launched a recruitment campaign for mobile surveillance officers with adverts in the national press and an online game designed to give people a taste of what can be a very hard - and potentially dangerous - life.
Control orders are imposed on suspects whom MI5 assesses are involved in terrorism plotting - but the police do not have the evidence to prosecute them.
Critics of control orders and their proposed replacement say that suspects should be prosecuted by using intercepted material such as tapped telephone calls to prove the case.
MI5 has expanded massively since 2001 - but evidence given to the 7 July bombings inquests indicated that it has previously struggled to cover all its targets when teams are investigating multiple plots.
Shadow home secretary Yvette Cooper accused the government of leaving MI5 surveillance stretched because of a coalition "fudge" over abolishing control orders.
"We warned the Home Secretary that doing a political deal with Nick Clegg on counter terrorism meant putting more pressure on our security services when they are already working flat out.
"We must now urgently know whether the Home Secretary has put aside enough money to fund the extra surveillance required."