No 'clear plan' for curbing benefit errors, say MPs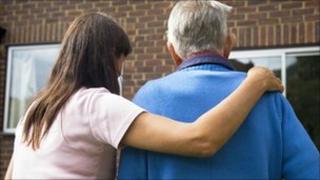 The government has "no clear plan" of action for tackling errors and fraud in the welfare system, MPs have warned.
More than £2bn is being spent on benefit overpayments and no progress has been made in reducing this, the Public Accounts Select Committee said.
It also claimed officials had not got to grips with £1.3bn in under-payments, despite the hardship these cause.
Officials said they were "absolutely committed" to reducing fraud and error and planned reforms would help do this.
The Department for Work and Pensions must "improve its performance" if it is to meet its target of a 25% reduction in the cost of fraud and error by 2015, the cross-party committee said in a new report.
'Difficult task'
While acknowledging that the £148bn annual benefits system was large and complex and reducing errors was "difficult", the committee said minimal progress had been made in two key areas.
Administrative errors by staff and mistakes by claimants led to an estimated £2.2bn of surplus benefits being paid out last year, a figure MPs said was "very significant".
Efforts to deal with this had brought "little success", the committee said, with the number of errors remaining steady despite a new strategy being put in place in 2007.
The 25% target would be "challenging", it added, especially as there was little evidence of proposed interventions and milestones to gauge progress towards the goal.
At the same time, the committee found there was no target for reducing under-payments and said action in this area was "critical" to stop those most in need being further disadvantaged.
'No improvement'
"The cost of errors in the benefits system is considerable and has not improved for years," the committee's chair, Labour MP Margaret Hodge said, adding that the problem had plagued successive governments for many years.
"People are not getting the money they are entitled to and the taxpayer is losing out on money paid when it should not have been."
Mrs Hodge said officials must do more to determine the cause of the mistakes by making better use of relevant information such as calls to advice lines and feedback from quality checking teams.
She said she also supported greater use of risk profiling to identify which recipients were most likely to make mistakes on their claims.
But she added: "What concerns us is that the department still lacks a clear plan of action, including a way of measuring progress.
"The department's focus is entirely on its own losses due to fraud and error and not underpayments to poor people who depend on the benefits to which they are entitled. There is no target for reducing underpayments but it is essential the department does not neglect this problem."
'Easier to understand'
Tackling benefit fraud is one of the stated objectives of the government's welfare reform bill, which passed its first parliamentary hurdle on Wednesday.
The centrepiece of the plan will be a new "universal credit". Due to be introduced in 2013, this will consolidate the 30 or so existing out-of-work and in-work entitlements into a single payment.
Ministers say radically streamlining the system will reduce the capacity for fraud, while making work more financially rewarding than being on benefits will be a disincentive to would-be offenders.
"Our welfare reforms will simplify the benefits system making it easier to understand and less open to mistakes," a DWP spokesman said, welcoming the report. "We are absolutely committed to reducing fraud and error, and our new strategy sets out our plans to tackle this problem."
But Mrs Hodge said officials had to act now to deal with the problem rather than wait until 2013, stressing the department "must work to get its house in order".