Clegg coalition rule 'to be dropped' from cabinet guide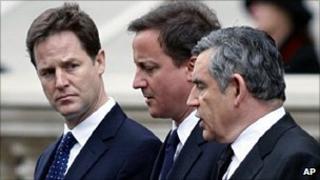 Nick Clegg's rule for hung parliament talks should not be included in a new Cabinet guide to how the UK government works, Sir Gus O'Donnell told MPs.
As leader of the UK's third biggest party, Mr Clegg said he would speak first to the party which won the most votes if no party won a majority.
It is referred to in a draft version of the Cabinet Manual - a bid to compile unwritten conventions of government.
Civil service chief Sir Gus said it was not a convention and should be removed.
When last year's general election resulted in a hung Parliament, there was much focus on Mr Clegg, who faced the choice of talking to both Labour and the Conservatives about a possible coalition deal.
Mr Clegg's party ended up talking to both, but initially he chose to enter negotiations with the Conservatives - with whom the Liberal Democrats eventually entered a coalition - saying that the party that "has won the most votes and the most seats, if not an absolute majority, has the first right to seek to govern".
That was at odds with some Labour figures who said that, as sitting prime minister, Gordon Brown should make the first attempt at forming a coalition.
On Thursday Cabinet Secretary Sir Gus was questioned by the Commons' political and constitutional reform committee, about efforts to compile rules and unwritten conventions in one manual.
'Notorious footnote'
The UK does not have a written constitution - instead relying on accumulated statutes, conventions and rulings.
Consultation is under way on a draft version of the manual, drawn up by civil servants. One draft chapter on the processes for forming a government in the event of a Hung Parliament was published in February 2010 - and Sir Gus said it had been useful.
But he said he was intending to remove a reference in the overall draft version to Nick Clegg's decision, as leader of the third largest party when the general election resulted in a hung parliament, to talk first to the party which won the most votes and seats.
Committee chairman Graham Allen suggested that on such a "fundamental political question", Parliament should be consulted.
Sir Gus said he had included it initially because it was relevant to the 2010 result but has since recommended it be withdrawn.
But he said: "On reflection, I personally would like to remove it on the grounds that what it reflects is a particular leader of a particular party in certain specific circumstances in the 2010 election. I don't think that constitutes a convention."
Labour MP and historian Tristram Hunt welcomed the removal of "the notorious footnote eight" which he described as the "Liberal Democrat attempt to change our constitutional procedures".
Written constitution
Sir Gus was asked to draw up the Cabinet Manual by former PM Mr Brown, who also suggested at the time that work could begin towards a written constitution for the UK.
But, on Thursday, Sir Gus told MPs: "The Cabinet Manual is bringing together existing rules and conventions.
"It is a guide, it is not legally binding and I don't believe it is the first step towards a written constitution. There are others who will want to use it as such - that is for them."
Sir Gus said the Cabinet Manual was simply an attempt to bring existing rules together in one document - but admitted on some issues "we took some judgement calls" on interpreting things that had previously not been written down. Ministers would decide what went into the final document, he said.
MPs on the committee suggested Parliament should have a say in what went into it. Sir Gus said various Parliamentary committees were looking at the document but the government saw it as "their document" "written by the executive, for the executive".
Asked what the manual's "constitutional status" was, he replied: "It's a guide, nothing more, nothing less."
There were suggestions that a written guide could mean the government could "plunge into chaos" if, for example, a prime minister decided to ignore a convention that he or she remain in office, in the event of a hung parliament, while negotiations continue over forming a new government.
Sir Gus said even with the existing Ministerial Code - ultimately it was up to the prime minister to decide what to do about rule breaches.
"The question is, what should the expectation be about what the prime minister should do? Prime ministers will always be able to do whatever they want in these circumstances."
He agreed that ultimately, the Cabinet Manual would have no authority to stop a prime minister resigning straight away, if they wanted to.
While previous conventions might influence a prime minister's behaviour "a prime minister could decide to ignore them", said Sir Gus.
In a report this week the House of Lords constitution committee said the Cabinet Manual was "open to misinterpretation" and of "no great value to ministers" - although it said it might be more useful for civil servants.
Sir Gus said that was "kind of curious" as he was being criticised by some who said it was a bit simplistic, others saying the Cabinet Office as "exceeding its limit". He said being attacked from both sides was where a Cabinet Secretary expected to be.