Labour should be proud of its record on crime - Cooper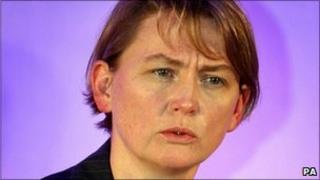 Labour should be "proud" of its record in cutting crime, shadow home secretary Yvette Cooper has said.
Her comments come after colleague Sadiq Khan said the party's record in cutting reoffending in 13 years in office could have been "much better".
Ms Cooper told BBC Hereford & Worcester that crime had fallen by 43% under Tony Blair and Gordon Brown.
The party had a "strong record on law and order" and would continue to be tough on the issue, she added.
Cracking down on crime was a major part of Mr Blair's election platform when Labour came to power in 1997.
But, in a speech on Monday, Mr Khan, the shadow justice secretary and a close ally of current Labour leader Ed Miliband, was critical of his party's performance in government.
"Reoffending rates are still too high, as is the prison population," he said. "I'm clear that this is one area where our scorecard in office would have said 'Could have done better'. Much better, in fact.
"We became hesitant in talking about rehabilitation and the merits of investment in bringing down reoffending rates. It was almost as if we had to give off the impression we were even more tough on crime just to demonstrate we weren't soft on crime.
"Playing tough in order not to look soft made it harder to focus on what is effective."
But Ms Cooper appeared to contradict those comments on Thursday, saying: "In the last 13 years crime fell by 43%, reflecting the extra police and the hard work in communities across the country to prevent and crack down on crime.
"That is progress communities should be proud of, and a testament to the strong record on law and order that Labour has after those 13 years.
"But we know we should be trying to go further. In many communities more still needs to be done to bring crime down."
Ms Cooper's statistical remarks are based on the British Crime Survey.