Nick Clegg to rally Lib Dems in Sheffield amid protests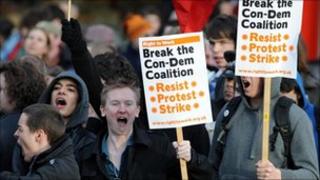 Nick Clegg has told Liberal Democrats to "hold your nerve" as he prepares to face activists rattled by sinking poll ratings and public anger at cuts.
The Lib Dem leader is seeking to rally his troops as his party gathers for its spring conference in Sheffield.
He told the BBC the party had been right to go into government and should "hold our head up high".
Police are preparing for up to 10,000 people to take part in anti-government protests over the weekend.
South Yorkshire Police have spent an estimated £2m on a "ring of steel" around the conference centre and have said they are looking into one report there had been a threat to kidnap Mr Clegg.
Several hundred demonstrators demonstrated outside the police cordon on Friday afternoon, shouting anti-Lib Dem slogans and anti-Nick Clegg chants. The main protest is expected on Saturday.
In an interview with BBC Radio Sheffield, Mr Clegg urged students and others planning to demonstrate against Lib Dem policy not to turn violent or attend "just to cause a ruck".
He also defended the beefed-up security arrangements in the city - where he is an MP - saying it was for the police to decide how to keep order around such events.
Mr Clegg is expected to face hostility from members of his own party, with a motion tabled attacking Project Merlin, the government's deal with the banks to increase lending, as "weak and hard to enforce".
'Gunfight'
Activists are also expected to voice their concern at the government's planned shake-up of the NHS.
Mr Clegg sought to play down talk of conflict with activists in an eve-of-conference interview with the Independent.
"People want to build this up into the Gunfight at the OK Corral," said Mr Clegg. "It is not like that at all.
"Most people accept we want to see the NHS become more democratic. I am very much in listening mode."
Mr Clegg is nevertheless expected to use the weekend in Sheffield to reassert his party's independence, amid fears it is losing its identity in its coalition with the Conservatives.
The party will be handing out pocket-sized cards to Lib Dem members containing a list of things the party says it has achieved in government, including civil liberties reform, tax cuts for the lowest paid and the "pupil premium" to channel cash to schools in deprived areas.
'Purity in opposition'
In an interview with the BBC, Mr Clegg said it was right his party went into government.
He said it would have been wrong to "retreat into a corner of perfect purity in opposition but complete impotence" when last year's general election resulted in a hung parliament, rather than taking responsibility and trying to "sort out problems".
"Do I realise this time is difficult? Yes. Do I think the country will get through this difficult phase? Yes.
"We need to hold our nerve, as a party hold our head up high, I think it's right we went into government and I think we are seeking to do the right things in government.
"Of course it is difficult in the short term... but I firmly believe, actually I believe even more strongly now than I did last May, that it was the right decision to try and sort out these problems for the long-term benefit of people in this country."
He also told BBC Radio Sheffield bankers' bonuses were "a red rag to my bull".
"I am like anybody else: you want to wring the neck of these wretched people who behaved so irresponsibly and then we are now having to bail them out."
Mr Clegg, who is MP for Sheffield Hallam, has also faced criticism over his U-turn on student tuition fees and the axing of a grant to Sheffield Forgemasters.
Sheffield doorstepping
But his parliamentary aide Norman Lamb said the party would not be "in hiding" and planned to get out on the doorstep in Sheffield.
Some activists fear the party faces a hammering at English local elections on 5 May, but Mr Lamb told reporters this week that the "the mood of the party remains good".
Mr Clegg took part in a question-and-answer session with sixth form students at a Sheffield school ahead of the conference, in which he defended the government's tuition fee policy and told students to ignore "scaremongering" over spending cuts.
He also admitted that his party was "too male and too white" and said delegates were due to debate increasing its diversity at the weekend.
The latest YouGov opinion poll for The Sun has put the Lib Dems on just 9%, trailing well behind their Conservative coalition partners on 34% and Labour on 45%.