Analysis: Lib Dem spring conference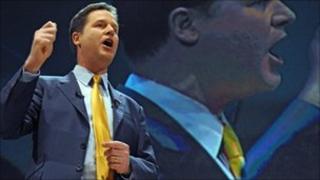 Nick Clegg started this weekend by telling Lib Dem activists to hold their nerve - the question now is, can they?
Have party members got the stomach to see the coalition through - despite their obvious discomfort at some of what it is doing?
The taste of power they craved for so many years has certainly turned out to be bittersweet.
On the plus side, they can point to things they have actually achieved in government. They can no longer be accused by their critics of sniping irrelevantly from the sidelines.
The downside is they now have to hold their conferences in a heavily fortified compound, with iron gates to keep out furious protesters shouting "Tory scum," and worse, at them.
The anti-Lib Dem demonstrations - imagine writing that phrase even 12 months ago - were not as big as police had predicted.
But they could not be written off by the party as the usual left-wing suspects either.
Price of power
One woman, waving a placard with a picture of a devil-horned Nick Clegg captioned "Judas", told me she was just an ordinary Lib Dem voter who felt badly let down over university tuition fees.
"I might as well have voted Tory," she told me.
She was not alone in that view.
To some extent the party can shrug the protests off, as Mr Clegg advised them to do, as part of the price of being in power.
What they cannot ignore is the poll numbers, which point to a drubbing in 5 May's English local, Scottish and Welsh elections.
"I am not going to lie to you, it is bad," said polling expert Professor Paul Whitely, of the Lib Dem think tank Centre Forum, at a fringe event on Saturday night.
He said the party's best hope of recovery was to pick more public fights with the Conservatives - and to call for a slowing down in the pace of spending cuts, perhaps using the Middle East "oil shock" as cover.
This would certainly have gone down well with activists I spoke to this weekend, who told me they were fed up with being the whipping boys of the coalition.
They feel they are being unfairly targeted by the media and the public for the unpopular decisions the coalition has had to take, while the Conservatives appear to be getting off relatively scot free.
'Listening mode'
Their spirits were lifted when they inflicted a blow on Mr Clegg over the government's plans for a major overhaul of the NHS in England.
The Lib Dem leader claimed he agreed with many of their concerns - but activists will now expect him to go back to Westminster and push for further changes to the Health Bill, which they see as an entirely Tory confection that was not in the coalition agreement.
Mr Clegg's aides insisted the government was in "listening mode" on the issue - but would not be bound by every detail of the rebel amendment.
In truth, this is uncharted water for the coalition - it has never had to deal one of the parties being so openly hostile to a government policy.
Whatever happens, it will give Lib Dem backbenchers some ammunition if they decide to rebel on the issue in the Commons, which could provide a headache for health ministers.
The easiest way for Nick Clegg to make his party feel better about themselves this weekend would have been to take a few subtle swipes at David Cameron in his keynote speech.
'Kidnapped'
But, apart from the fact that Mr Clegg's speech was vetted by Mr Cameron's team - as part of the coalition agreement the Tory leader's speech last week will have been run past the Lib Dems - this was never going to happen.
Some party members may be deeply uncomfortable at how politically close the two men appear to be - when someone brought the issue up at a Q&A on Saturday it got a round of applause.
But any disagreements the two may have had are going to remain firmly behind closed doors for now.
Mr Clegg tried to offer some reassurance in his speech, joking that he had not been "kidnapped" by David Cameron when he entered Downing Street.
But he resolutely avoided attacking the Conservatives as he sought to assert his party's own identity, saying it was neither left nor right but "liberal".
One area on which Mr Clegg and Mr Cameron have agreed to disagree is the alternative vote - and the Lib Dem leader used his speech to urge activists to vote yes to change.
Lib Dem president Tim Farron called the referendum the biggest ballot in Liberal Democrat history - with the power to "change everything" for the party.
But, in contrast to last week's Conservative spring conference, which was plastered with No2AV campaign posters, with delegates all sporting campaign stickers, the yes campaign appeared more low key.
Mr Farron also urged the leadership to be "spikier" in their dealings with the Conservatives - and play up policy differences with them on issues like Trident or social justice.
But he also stressed that the coalition "must be made to work" - walking away now is not an option.
In other words, Lib Dem activists have no choice but to stick with it to what they can only hope will not be the bitter end.