AV referendum: Ed Miliband urges Nick Clegg to lie low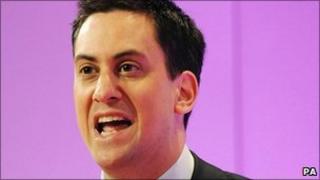 Labour leader Ed Miliband has said he will not share a platform with Nick Clegg, even though they are on the same side in the debate over voting reform.
He said the best way for the deputy prime minister to help the Yes to AV campaign was to "lie low for a bit".
Mr Clegg and Mr Miliband both back changing Westminster elections from the first-past-the-post to the alternative vote (AV) method.
A nationwide referendum on the plan takes place on 5 May.
A move to AV, which asks voters to rank candidates in order of preference, is opposed by Prime Minister David Cameron and most Conservatives.
At a Labour press conference, Mr Miliband said: "My position on this is clear. I want us to win the referendum on the alternative vote.
"I will share a platform with anybody who will help us to win."
'Didn't want us'
He added: "What do the people who are running the No to AV campaign want? They want Nick Clegg [to appear]... the best thing Nick Clegg can do on this, frankly, if he wants us to win, is lie low for a bit."
Mr Miliband also said: "I'm not going to share a platform with Nick Clegg."
The Labour leader said that, while Mr Clegg had campaigned at the general election on the promise of a "new politics", he had "become the exemplar of the old politics - breaking your promises".
Mr Miliband confirmed that he had been due to appear on Tuesday at a campaign event with former Lib Dem leader Charles Kennedy, but said the move had been blocked by Mr Clegg's team.
"He didn't want us, as I understand it, to share a platform together - myself, Charles Kennedy and [Green Party leader] Caroline Lucas," he added
"He felt that he had to be there as well. He was worried about an event going ahead without him."
The AV referendum was an important part of the coalition deal between the Conservatives, who want to keep the current system, and Mr Clegg's Liberal Democrats, who want to change it.
Voters will decide whether to keep first-past-the-post, where voters put a cross next to their chosen candidate, or switch to AV, where candidates are ranked in order of preference.
No to AV launched a new part of its campaign on Friday, aimed at supporters of proportional representation.
"No to AV, Yes to PR", is backed by former SDP leader Lord Owen. It aims to attract people "disaffected by the decision of the long-standing supporters of proportional representation - like the Liberal Democrats... to back the Yes to AV campaign".
Lord Owen said he was supporting a "no" vote in the referendum because AV "can produce wildly disproportionate results, and the second preferences of the least favoured candidate carry the least weight".
The AV vote is the first UK-wide referendum since 1975.